One of my favorite things to do in the evenings is plop down on the couch with a glass of wine, armed with pen and paper, and watch Food Network.
Yeah, I'm old school. I still love to actually write things out on paper instead of typing it out on my smart phone. I also have a hamburger phone in the kitchen and a cassette player to blast mix tapes filled with 90's hip hop. Just kidding…or am I?
Don't laugh, but one of my favorite shows is Guy Fieri's "Diners, Drive-Ins, and Dives." So many people have asked me if I watch Iron Chef, Cupcake Wars, Hell's Kitchen, or Chopped, but I'm not a big fan of cooking shows with a lot of drama. I automatically put myself in that situation and my anxiety skyrockets, fueling more need for wine and then I have nightmares that Gordon Ramsay is screaming in my face and I throat punch him out of retaliation. "I AM NOT AN IDIOT SANDWICH!!!!"
The reason I love Triple D is because it's real people, in real towns, concocting their own incredible dishes and letting their creativity shine. They're also cutting jokes with each other, having fun, and eating food…the perfect combination of happiness in my eyes. Sometimes, I imagine myself talking smack to Guy Fieri, just to see the expression on his face. That would be so much fun.
That's where this recipe was originally created, from watching this show. And let's be honest, I have access to over 100 taps of craft beer at Krafty Draft Brew Pub, so I'm all about using their beer in different recipes. If you're looking for a light, healthy soup…THIS IS NOT IT. However, if you're looking for a thick, filling, hearty, rub-your-belly-because-that-was-so-good-soup, here you go.
The first time I made this recipe, I used Wild Turkey from the pub. It was FANTASTIC. When I couldn't get up there to get some more when making another batch, I settled for Guinness. HUGE MISTAKE. I've made Chocolate Stout Cupcakes using Guinness, and those were yummy…but not so much in this soup recipe. Since the pub was out of Wild Turkey this time, they suggested Kentucky Bourbon. WINNER!!
Beer Cheddar Soup
1 cup unsalted butter
1 onion, diced
1 red bell pepper, seeded and diced
1/2 cup all purpose flour
1/2 tablespoon minced garlic
16 oz. dark beer (I use Wild Turkey or Kentucky Bourbon from Krafty Draft Brew Pub)
3 cups chicken broth
2 cups half and half
1 1/2 pounds grated sharp cheddar cheese
1 bag steam 'n mash potatoes
1 lb. smoked sausage (I use Cajun style andouille), cut into bite size pieces
1/2 teaspoon paprika
1 teaspoon salt
Melt butter in stock pot on medium  heat, add onion and bell pepper. Cook until onion and pepper are soft, add garlic, then stir in flour and cook for 1 minute. Add beer and stir, it will thicken quickly. Stir in chicken broth, puree soup using an immersion blender (or transfer soup to blender and puree). Cook potatoes according to package directions, mash with a potato masher in a medium size mixing bowl and set aside. Add half and half, paprika, and salt to pot and stir together, continue cooking. Add grated cheese and stir until cheese is completely melted. Stir in mashed potatoes and diced sausage, cook for another 2-3 minutes. Serve immediately, or distribute into containers and store in refrigerator for up to 7 days, or in freezer for up to 3 months.
*You can also make this several hours before serving, just transfer soup to a slow cooker and set to warm!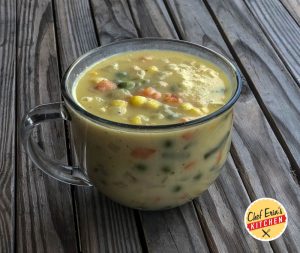 Hearty Vegetable Chowder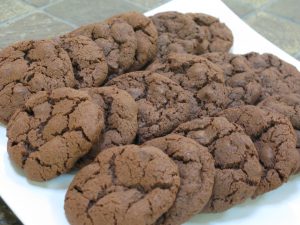 Cayenne Chocolate Cookies