Gluten-Free/Dairy-Free/Plant-Based
Sometimes it's hard to find healthy breakfast options that don't taste like you're grazing fresh grass, especially if you like something a little on the sweeter side. This is one of my favorite ways to start the day, especially since it's packed with all kinds of nutrients like fiber, protein, and healthy fats that hold me over for a few hours. Between my 6 year old son, my parents, and me, a batch of this gets polished off within a matter of days. 
In fact, this dish can also double as a dessert as well, since it's similar to a fruit cobbler. Just tell people it's a fruit cobbler so they don't get all weirded out by eating something that's healthy for dessert. Trick them first, then tell them later.
Fruit Crumble
For the Filling
4 cups organic blueberries
2 cups organic strawberries, cut into 1 inch pieces
2 cups diced organic Granny Smith Apples
1 tablespoon arrowroot starch
Preheat oven to 350 degrees. Combine all ingredients in a medium size mixing bowl and toss together. Spread into an even layer in a 9×13 inch baking dish.
For the Topping
2/3 cup brown rice flour
2 cups gluten-free rolled oats
1 cup slivered almonds
1/2 cup honey
1/2 cup maple syrup
1/2 cup coconut oil, melted
1 tablespoon ground cinnamon
Combine all ingredients in a medium size mixing bowl, toss together until well-combined. Spread evenly over top of fruit, place in oven to bake for 45-50 minutes. Let rest for five minutes before serving. Store in airtight containers in refrigerator for up to 7 days or freezer for 3 months.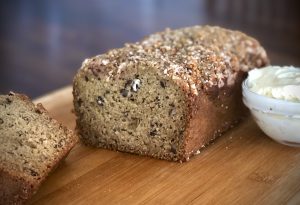 Banana Nut Bread with Whipped Honey Butter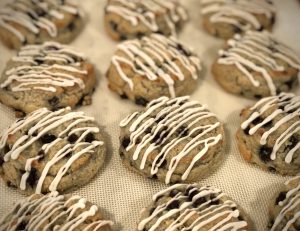 Lemon Blueberry Scones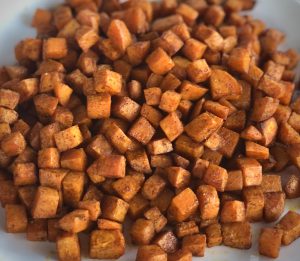 Roasted Cinnamon and Chipotle Sweet Potatoes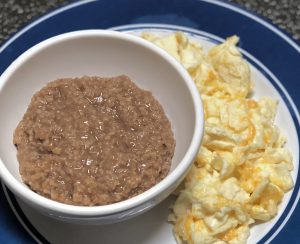 Quinoa Oatmeal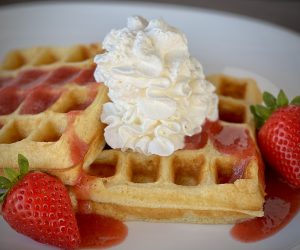 Best Ever Waffles with Strawberry Maple Syrup