When it comes to New York style cheesecakes, these little cupcake size guys are more addictive than I'd like to admit. Boston Creme is pretty simple, with a classic vanilla cheesecake topped with vanilla custard and chocolate ganache.
But, I took some shortcuts. First of all, the crust is a shortbread cookie that I bought at the store. What?? Yes. It saves time to pop a little cookie into each cavity instead of making a crust and pressing them down into each one. This saves a lot of time, and time is money. Another shortcut is the vanilla custard. Instead of making a custard from scratch, this recipe uses instant vanilla pudding mix and frozen whipped topping as the custard. Since it's sandwiched by chocolate ganache and cheesecake, it's highly unlikely that anyone will even notice, or care after they sink their teeth into one of these babies.
Boston Creme Cheesecake Tarts (makes 42 tarts)
2 boxes shortbread cookies
6 (8 oz.) blocks cream cheese, softened
1/4 cup + 2 tablespoons cornstarch
2 cups granulated sugar
1 cup heavy cream
1 1/2 tablespoons vanilla extract
3 eggs
Preheat oven to 350 degrees. Place shortbread cookies in bottom of lined muffin pans. In a standing mixer or mixing bowl, add 3 (8 oz.) packages cream cheese, cornstarch, and 1 cup sugar. Beat at medium speed until mixture is smooth. Add remaining cream cheese and granulated sugar, beat until smooth. Slow mixer to stirring speed, add vanilla and egg, scraping down the sides. Slowly add heavy cream, beat just until mixed in. Using a yellow cookie scoop, distribute batter evenly in muffins pans on top of cookies. Place pans in oven and bake for 18-20 minutes, remove from oven to cool for 1 hour before transferring to refrigerator for another 2 hours to set. Remove from pans when cooled.
Top with vanilla custard and chocolate ganache (instructions below). Store tarts in refrigerator for up to 5 days or in freezer for up to 3 months.
For the Vanilla Creme
1 small box instant French vanilla pudding mix
1 cup whole milk
1 teaspoon vanilla extract
1 cup frozen whipped topping, thawed
Combine pudding mix, milk, and extract in a small mixing bowl and whisk together well. Place in refrigerator for five minutes to set. Stir in whipping topping, transfer to pastry bag with round cake decorating tip and squeeze about a tablespoon of custard on top of each cheesecake tart.
For the Chocolate Ganache
1 1/2 cups semisweet chocolate chips
3/4 cup heavy cream
Heat heavy cream for 45-60 seconds, or until bubbling. Pour over chocolate chips in a small mixing bowl and whisk together vigorously until chocolate chips are melted and smooth. Spoon ganache into a squeeze bottle, squeeze in a circular motion on top of vanilla custard.
FREEZER INSTRUCTIONS: Store covered in freezer for up to 4 months, pull out of freezer to thaw in refrigerator when ready to eat.
Oreo Cheesecake Tarts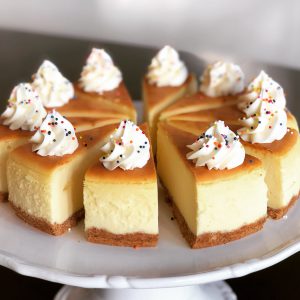 Birthday Cake Cheesecake