Gluten-Free/Dairy-Free/Paleo/Keto/Whole30
It can be overwhelming when trying to figure out what to eat for breakfast that won't have you reaching for a muffin two hours later. This breakfast scramble is packed with protein, veggies, and healthy fats to keep your brain and body moving to keep you satisfied until it's time for lunch.
When I first started eating this for breakfast, my body was confused. Wait, it's after noon, why are you not hungry yet?? Thank you, Breakfast Scramble. We can be besties now. I honestly never knew I could fall in love as deeply as I have with avocados until I started eating them. I'm an avocado lifer.
Breakfast Scramble
1 tablespoon coconut oil
1 clove garlic, minced
1/2 cup diced veggies*
2 organic free-range eggs
1/2 cup egg whites
1/2 avocado
salt and pepper to taste
Heat oil in a small skillet pan on medium heat, add diced veggies and saute until tender. Combine eggs and egg whites in a bowl and beat with a fork or whisk. Pour eggs into pan and reduce heat to low/medium, stirring occasionally and cook until eggs are cooked through. Sprinkle with salt and pepper, spoon eggs onto a plate. Remove pit from avocado and scoop out of peel, slice and serve on top of eggs.
*I usually dice some onions and peppers to use for my eggs and keep them stored in an airtight container in the fridge for a week. It's incredibly convenient when using these in recipes, since I can just scoop out however much needed for each recipe.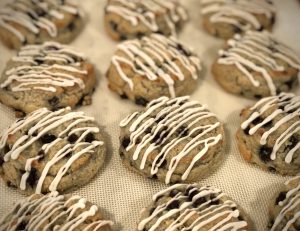 Low-Carb Blueberry Scones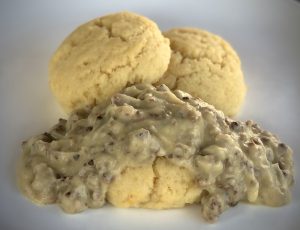 Cauliflower Sausage Gravy with Almond Flour Biscuits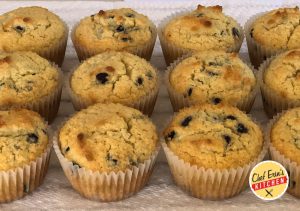 Low-Carb Chocolate Chip Muffins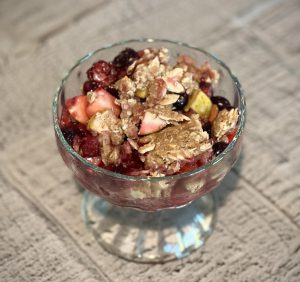 Fruit Crumble