Gluten-Free/Dairy-Free/Low-Carb/Keto/Paleo
Welcome to the first of many recipes I'll be showing you how to incorporate pureed cauliflower into your dishes. While working at Carolina Keto Cakes, Nicole Yates introduced me to an incredible Sausage Gravy with Almond Flour Biscuits that was completely keto. The gravy she made was made with heavy cream and almond milk, but I saw an opportunity to use cauliflower in its place to add some veggies to this incredible dish.
I found the recipe for these tender biscuits from Wholesome Yum, and they have become my favorite. In fact, most days I'll reach in the freezer to grab one and slap it on the counter to thaw so I can smother it with butter the next morning along with some scrambled eggs. They're also fantastic as a breakfast biscuit with sausage, egg, and cheese.
But in this recipe, they're completely smothered with a dairy-free sausage gravy that is made with almond milk and pureed cauliflower. The best part is that you don't even feel like you're eating vegetables, making it easier to trick any non-veggie-loving family members into a much healthier version of comfort food.
Cauliflower Sausage Gravy
2 (10 oz.) bags steam-in-a-bag cauliflower
1 cup almond milk
1 lb. ground sausage
1/2 teaspoon pink himalayan or sea salt
Heat sausage in a skillet on medium heat. Cook thoroughly until all sausage is browned and fully cooked. While sausage is cooking, cook cauliflower in microwave according to package directions (I usually cook mine for 4 minutes for easier pureeing). Combine almond milk, cooked cauliflower, and salt in a blender and puree until smooth. When sausage is done, pour cauliflower puree in with the sausage (do not drain sausage) and stir together well.
Almond Flour Biscuits (from Wholesome Yum)
2 cups almond flour
2 teaspoons baking powder
1/2 teaspoon salt
2 eggs
1/3 cup butter, melted (use plant butter for dairy-free)
1/4 cup sour cream (optional)
Preheat oven to 350 degrees. In a medium size mixing bowl or standing mixer, combine all ingredients and beat at medium speed just until well-combined. Using a cookie scoop, distribute batter onto a silicone lined baking sheet* and bake for about 15-16 minutes, until golden and firm. Smother with sausage gravy and enjoy a little bit of breakfast bliss.
*This is my favorite way of baking when it comes to biscuits, rolls, cookies, etc. because the silicone mats distribute the heat evenly for perfect baking. If you don't have these, just bake them on parchment lined baking sheets.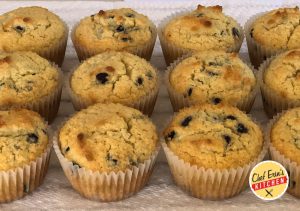 Low-Carb Muffins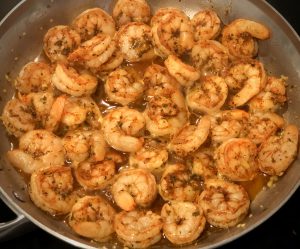 Sauteed Shrimp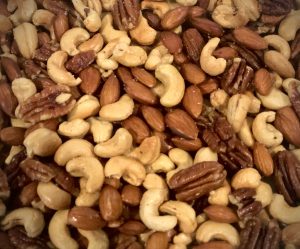 Roasted Mixed Nuts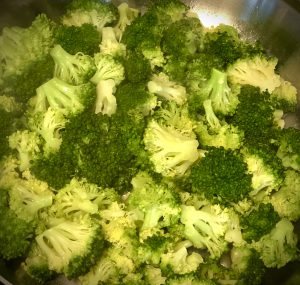 Our Favorite Broccoli