I don't know about you, but I am obsessed with cheddar biscuits. Whenever our family went to Red Lobster for dinner back in the good ole days when I didn't have to pay for my own food, I wolfed these biscuits down like I hadn't eaten in three weeks. Let's be honest though, that's not a surprise considering I was a food-obsessed teenager with the metabolism of a tri-athlete. Those days are gone, and I'm limited to the amount of biscuits I can eat.
You can have them with breakfast, lunch, dinner, or a snack. They're so versatile, and you can stuff them with meat or slather them with butter…and keeping a bunch of them in the freezer to enjoy on hand is one of my favorite life hacks.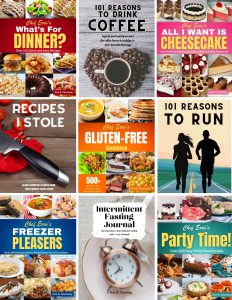 Cheddar Buttermilk Biscuits
4 cups all-purpose flour (make these GLUTEN-FREE by using GF All-Purpose Flour!)
2 tablespoons granulated sugar
2 tablespoons baking powder
4 teaspoons garlic powder
1 teaspoon onion powder
1 tablespoon sea salt
2 cups buttermilk
1 cup unsalted butter, melted
3 cups grated extra sharp cheddar cheese
½ cup sour cream
Preheat oven to 400 degrees. In a medium size mixing bowl, whisk together flour, sugar, baking powder, garlic powder, onion powder, and salt. Add buttermilk, melted butter, sour cream, and cheddar cheese. Beat with electric mixer at medium speed just until combined, do not overmix. Using a 4 oz. cookie scoop (or 1/4 cup), distribute dough to a lined cookie sheet about 3 inches apart. Brush with more melted butter, if desired. Place pan in oven and bake for 20 minutes, or until light golden. Remove pan from oven and serve warm with butter.
Freezer Instructions: After biscuits have cooled completely, wrap each one in plastic wrap. Place in freezer safe Ziploc® bags and store in freezer for up to 6 months. Pull biscuits out as needed, can thaw at room temperature or unwrap and gently defrost in microwave.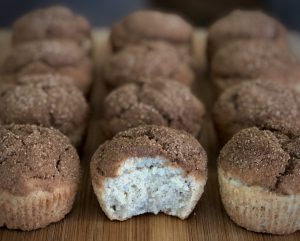 Apple Cider Donut Muffins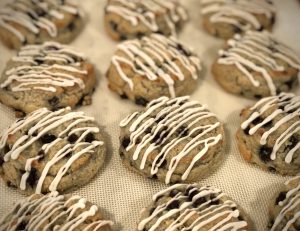 Low-Carb Blueberry Scones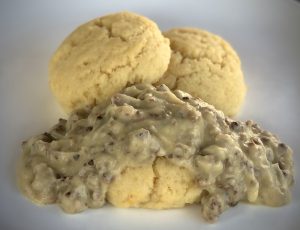 Cauliflower Sausage Gravy with Almond Flour Biscuits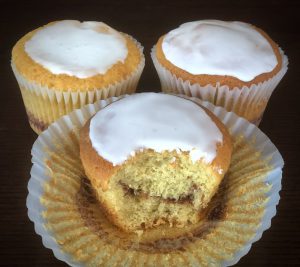 Cinnamon Roll Muffins