Gluten-Free/Dairy-Free/Paleo
More often than I like to admit, I get a real hankering for chocolate. It's one of those things where I end up standing in front of the pantry, digging through the baking ingredient shelf, then cursing at myself to get out of there because I don't have any healthy options to choose from. Then, I'll go back to the pantry after fussing at myself to leave, and settle for a non-dairy chocolate bar. Although it can satisfy that craving, I can't help but to dream of fudge brownies that melt in your mouth with each bite.
Since gluten and I don't get along too well, it's hard to find something in the store that's really delicious. I mean, if I'm craving something good, then I would at least like to enjoy it AND not feel like garbage after indulging. So, here is my compromise. All of the ingredients used are gluten-free and dairy-free, yet I'm not missing out on the pure enjoyment of biting into a rich, chewy, chocolatey brownie. The coffee intensifies the chocolate flavor, while the salt gives it that perfect little added touch of sweet and salty every time your lips hit the top.
I went through FOUR different recipe experiments before settling on what I felt like was the most moist and fudgy brownie recipe. I mean seriously, look at all the chocolate oozing out of the sides! That was the bonus of using the chocolate chunks in the batter. They're rich, so that incredible hit of chocolate bliss hits every single craving you can dream of. My kids have tried every one of these recipes that I went through (and approved the first three), but we all agreed this batch was our favorite. It's settled when it becomes kid-friendly, and they've already been asking about packing them in their lunch boxes for school.
Now whenever I'm rummaging through the pantry looking for some chocolate, I can remind myself that these little guys are wrapped up neatly in the freezer, calling my name. We're soul mates.
Dark Chocolate Fudge Brownies
6 large eggs
2 cups coconut sugar
1 cup Paleo flour blend
1/4 cup unsweetened dark cocoa powder
1/4 cup coffee, cooled
2 teaspoons vanilla extract
2 cups dairy-free dark chocolate chips (my favorite brand is Enjoy Life)
1 1/4 cup refined coconut oil
1 cup dairy-free chocolate chunks (my favorite brand is Enjoy Life)
1/2 teaspoon sea salt
Preheat oven to 325 degrees F. Combine flour and cocoa in a small mixing bowl, set aside. Melt 2 cups chocolate chips and coconut oil in a microwave safe dish in 30 second intervals, stirring in between each interval until melted and smooth. Combine coconut sugar and eggs in a mixing bowl or standing mixer, beat at medium speed with electric mixer for 2-3 minutes. Add melted chocolate, coffee, and vanilla, beat just until combined. Add dry ingredients and beat again, just until combined. Line a 9×13 inch pan with parchment paper (hanging over edges) and coat with cooking spray. Stir chocolate chunks into batter, then spread evenly into pan, sprinkle with sea salt, then place in oven and bake for 40-45 minutes. Insert a toothpick in center, there should be a small amount of crumbs that stick (unless you hit a chunk of chocolate!). Remove pan from oven and place on cooling rack to cool. When brownies have cooled, pull out of pan using the edges of parchment paper and transfer to cutting board before cutting into pieces with a sharp knife.  Store in airtight container for up to 3 days.
Freezer Instructions: After you have cooled and cut brownies, wrap individually in plastic wrap and place in a ziplock bag or airtight container. Store in freezer for up to 3 months, pulling out brownies to thaw and enjoy as needed!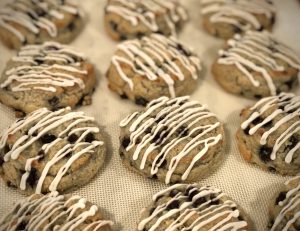 Blueberry Scones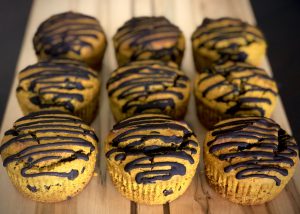 Chocolate Chip Pumpkin Spice Muffins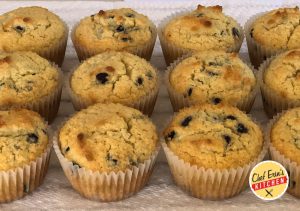 Chocolate Chip Muffins