I'm a big fan of opening my eating window after a daily fast with something that is considered window-worthy. Ladies and gentlemen, these little babies are definitely worth opening that window with a hot cup of coffee. Pancakes are fantastic enough by themselves, but let's throw in some added nutrition with fresh fruit and then drizzling them with maple syrup. 
I also love how you can make these even healthier by changing up the pancake recipe. There's always a batch of Oat Flour Pancakes in my freezer for the kids, since tricking them into eating healthier foods has become an obsessive hobby. Depending on who will be joining me for a nice little brunch snack determines what kind of pancakes we'll be enjoying, so having options is fantastic.
Are these an appetizer , breakfast, or brunch item? I'll let you decide.
Fruity Mini Pancake Skewers (8-10 servings)
1 cup baking mix (like Bisquick®)*
½ cup milk
1 egg, beaten
1-pint fresh strawberries, sliced
2-3 bananas, sliced
1-pint fresh blueberries
Confectioners sugar
Maple syrup
In a medium size mixing bowl, whisk together baking mix, milk, and eggs. Heat an electric skillet or non-stick pan on medium heat. Spoon batter into squeeze bottle, squeeze a quarter-size amount of batter into pan. When the bubbles rise and bottom is golden, flip to other side to cook. When all pancakes are done, assemble skewers. Start with a pancake on the bottom, add 1 slice strawberry, 1 slice banana, another pancake, and repeat layering one more time. Add a fresh blueberry to top and place a skewer through the middle. Lightly dust with confectioners sugar and drizzle with maple syrup.
*Make these GLUTEN-FREE and/or PLANT-BASED by using your own favorite pancake recipe!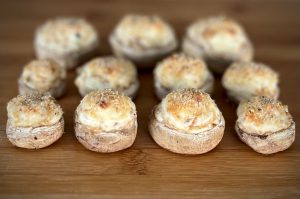 Stuffed Mushrooms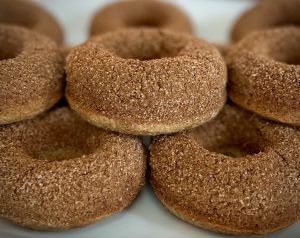 Apple Cider Donuts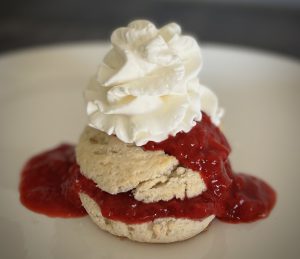 Strawberry Shortcakes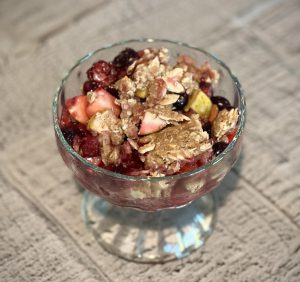 Fruit Crumble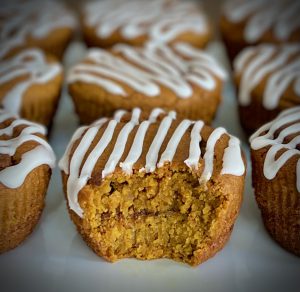 Pumpkin Cinnamon Roll Muffins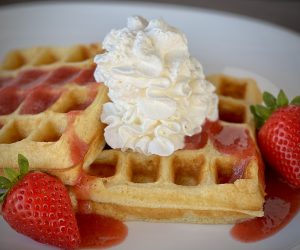 Best Ever Waffles with Strawberry Maple Syrup