Click HERE to watch the video of this recipe on my YouTube Channel!
Pigs 'n a Blanket are one of my all time favorite appetizers. I mean, who doesn't naturally gravitate toward these cute little weenies wrapped in dough?? My bestie and I had to be watched as teenagers whenever these were served at any parties. At first, we would work together hoarding them onto our plates. Next thing you know, I'm stealing some off her plate because I finished mine and then she'd stab me with her fork. That is true friendship.
When I did a trial run on this recipe, I needed someone to be my guinea pig. It's not that I was worried that I would eat all of them (actually I was), but there needed to be some more feedback.
My husband works from home, and he got pulled into a meeting during lunch time. When he came in the kitchen to get something to drink, I could tell he was in a rush. "Hey, I'm making some Jumbo Pigs in a Blanket that will be ready in about 20 minutes. Would you like to try some?"
Hubby is not a foodie, but he hadn't had a break to make himself something to eat. "Mmm, yes!" was his response.
After I packed them on a plate to take a picture, I grabbed one and dipped it in the honey mustard. Although I had already eaten lunch and wasn't hungry, my eyes closed as I chewed carefully, shaking my head and drifting into space. I contemplated keeping the entire plate for myself, but hubby needed to enjoy this blissful experience, too. I took them in his office and set them down for him to devour, then made my way back into the kitchen.
A few minutes later, he brings the plate back in the kitchen and starts raving, "Those were SO good."
Ladies and gentlemen, we have a winner…or is it wiener?
Jumbo Pigs in a Blanket
2 cans crescent roll dough
8 beef brat hot dogs, cut in half*
Preheat oven to 350 degrees. Spray 9×13 inch baking dish with cooking spray. Roll out crescent roll dough into individual triangles. Place one piece of hot dog at base of dough, then roll up from the wide end. Place all piggies in greased baking dish. Bake for 20-22 minutes, or until tops are a light golden brown. Serve warm with honey mustard.
Freezer Meal Instructions: prepare as instructed above, cover dish with plastic wrap and store in freezer for up to 3 months. Thaw in refrigerator before baking, this is a great way to prepare ahead of time for a party!
*Johnsonville brand is my favorite hot dogs to use for this recipe, but you can use whatever kind you prefer!
Honey Mustard Dipping Sauce
1/2 cup mayonnaise
3 tablespoons dijon mustard
3 tablespoons honey
Combine all ingredients in a small mixing bowl and whisk together well. Serve with piggies, store leftover sauce in refrigerator for up to 2 weeks.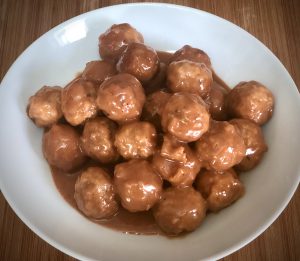 Slow Cooker BBQ Meatballs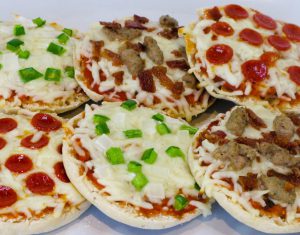 Mini Pizzas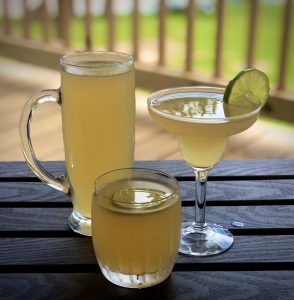 Beer Margaritas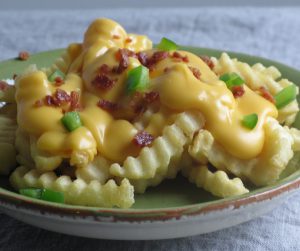 Smothered Cheese Fries