One of the things my family does on occasion is take a trip to Costco. Our kids know it as "The Big Store" and we typically go out to lunch after dragging them out there to peruse. You'd be amazed at how easily we can get sucked into cool things that are on sale, but my two favorite sections are the kitchen appliances and the food…of course.
I remember the first time stumbling across the different types of pasta available at Costco. The two that really stuck out were the Chicken Ravioli and Lobster Ravioli. Personally, I'm a sucker for ANY kind of ravioli, but seeing these two new ones in front of my eyes triggered the brainstorming. If you ever happen to see me at the store, staring at a certain food and not moving, it's because there's a recipe that's being conducted in my head. Watch out.
If you're wondering if this is a LOT of food, you are correct. When it comes to freezer meals, I prefer making them in large batches to keep the freezer stocked (and I also have extra for family and friends for them to store in their freezers as well). With the pandemic going on, I have seen SO many people who absolutely do not feel like cooking, but also aren't comfortable going out to eat a whole lot either. Here is a win/win situation, having a restaurant-style meal for a fraction of the price at home, and not having to prepare food every single day.
Marsala Chicken Ravioli
4 containers of chicken mozzarella ravioli (2 lb 4 oz each)
2 lbs. mozzarella cheese for topping
For the Sauce
1 pound unsalted butter
2 cups all purpose flour
2 tablespoons minced garlic
4 cups marsala cooking wine
6 cups chicken broth
4 cups heavy cream
1 ½ tablespoons kosher salt
½ teaspoon black pepper
1 ½ cups parmesan
3 pounds button mushrooms, sliced into ¼ inches thick (plus butter and olive oil for cooking)
Melt butter in a large pot on medium heat. When butter melts, whisk in all purpose flour and cook for 1 minute. Slowly whisk in marsala cooking wine, continue to cook for another minute. Next is your chicken broth, slowly whisk in to keep from clumps forming. Cook for 5 minutes, then whisk in heavy cream and continue cooking for another 5 minutes to let sauce thicken. Add salt, pepper, and parmesan, turn off heat and stir sauce well for the cheese to melt.
Cook ravioli according to package directions, drain, then add to sauce and stir together well. Distribute to casserole dishes, foil containers, or glass freezer safe containers. Top with mozzarella cheese, place containers in fridge or freezer to cool down before covering with lids (or plastic wrap if making some in a larger casserole dish).
If you plan on eating any of this within the next 5-7 days, store in refrigerator until ready to bake. Otherwise, store in freezer for up to 3 months.
Baking Instructions: Preheat oven to 350 degrees. If refrigerated, remove cover and bake for 30-40 minutes, or until cheese is melted on top and it is heated through. If frozen, bake for 65-75 minutes, or until cheese is melted on top and it is heated through.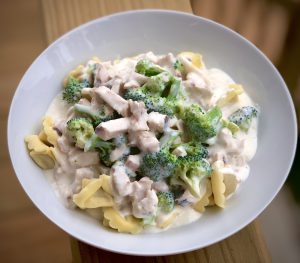 Chicken and Broccoli Tortellini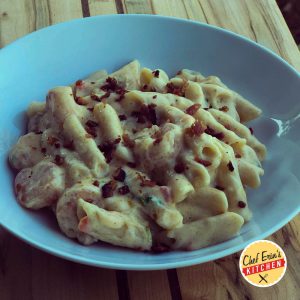 Southern Shrimp and Pasta