One of the things I love experimenting with is using different types of mixes in homemade recipes. They're partially from scratch since they're homemade, right?? You'd really be amazed at how easy it is to improvise and use mixes, and this particular recipes is one of the most popular flavors that I make for people. 
In the standard recipe for a box mix, it tells you that in order to have thicker brownies, bake the mix in a smaller pan. Well, how about we rebel against that by doubling the batter and baking it in a bigger pan, then sprinkling it with a bag full of chocolate candy before throwing it in the oven? Yes please.
This recipe is a great option if you're looking for a type of brownie that most people will like. I mean, chocolate candy on chocolate brownies? Stick me with a fork, because I'm done.
M&M Brownies
2 boxes Duncan Hines® milk chocolate brownie mix
1 cup vegetable oil
½ cup water
4 eggs
1 (10 oz.) bag mini M&Ms®
Preheat oven to 350 degrees. Line a 9×13 inch baking pan with parchment paper hanging over sides, coat with cooking spray. Dump both bags of brownie mix into a large mixing bowl. Combine oil, eggs, and water in a small mixing bowl and whisk together well. Pour liquid into large mixing bowl with brownie mix and stir together gently with a spatula until well combined. Spoon batter into pan on top of parchment paper and spread into an even layer. Sprinkle bag of M&Ms® on top of batter. Place pan in oven and bake for about 50 minutes, until a toothpick inserted in center comes out with just a tiny bit of fudge on tip. Set pan on cooling rack to cool completely. Remove brownies from pan by pulling up sides of parchment paper and transfer to a cutting board. Cut brownies into desired size and store in airtight container for 3 days or pack away in the freezer.
Freezer Instructions: After you have cooled and cut brownies, wrap individually in plastic wrap and place in a ziplock bag or airtight container. Store in freezer for up to 6 months, pulling out brownies to thaw and enjoy as needed.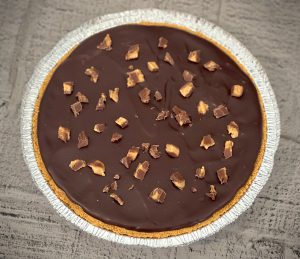 No-Bake Reese's Peanut Butter Cup Pie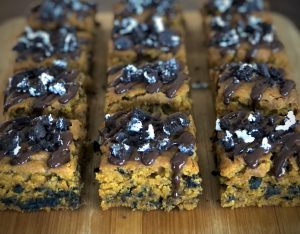 Pumpkin Oreo Brownies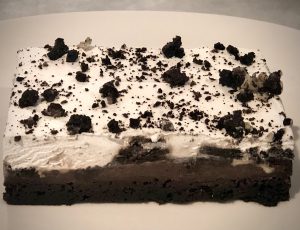 Oreo Delight