A few weeks ago while working on my next cookbook, I learned how to make no-churn ice cream. What started out as 3 little no-churn recipes turned into almost 70 recipes and ended up adding an entire chapter to the book. Go big or go home, right? My brain went crazy when I learned how to make all of these different ice cream recipes without having to use an ice cream machine. How is this possible?! 
I had some bananas sitting on the kitchen counter that my family hadn't eaten, and they got ripe. When my kids see brown on a banana and yell, "EWWW!" then I know they're ready to use for desserts. They're part of my kitchen staff without even realizing it. Don't tell them though, they might expect to start getting paid with money instead of food.
They're all big fans of Banana Pudding, so I had to come up with a recipe. It took several tries, making little changes here and there to get the perfect consistency for fluffy, creamy ice cream. My husband grabbed a little container, sat down on the couch with his spoon and went to town. He looked up halfway through his quality assessment and said, "Wow, this really does taste like Banana Pudding." Mission accomplished.
No-Churn Banana Pudding Ice Cream
14 oz. can sweetened condensed milk
2 ¼ cups heavy cream, divided
3 ripe bananas
1 tablespoon vanilla extract
2 cups Mini Nilla Wafers®
In a blender, combine ¼ cup heavy cream, bananas, and vanilla. Puree until smooth. In a large mixing bowl, add sweetened condensed milk and whisk together well. In a standing mixer or medium size mixing bowl, beat the heavy cream at high speed until stiff peaks form. Spoon half of whipped cream into condensed milk mixture, stir together with a spatula until well-combined. Add remaining whipped cream and repeat process, stir in cookies. Pour into a ice cream container, cover and place in freezer for a minimum of 4 hours to set. Served with whipped cream and extra Nilla Wafers for a true banana pudding experience.
Freezer Instructions: Store in freezer for up to 6 months, pull out to enjoy as desired.
Single-Serve Cups: My favorite way to make ice cream is by distributing them into 4 oz. containers for the kids, and 8 oz. containers for the adults. Not only does this save you from scooping ice cream into bowls and getting less dishes dirty, it's also a great way to not eat an entire pint at a time.
Chocolate Monkey Variation: when combining pureed bananas and sweetened condensed milk, add 1/2 cup creamy peanut butter and beat with electric mixer until smooth. Follow remaining instructions with adding heavy cream, then substitute 1 cup Nilla Wafers® with 1 cup mini chocolate chips.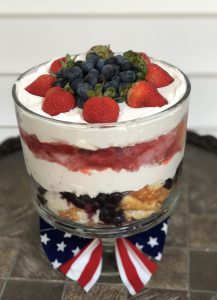 Super Easy Fourth of July Berry Trifle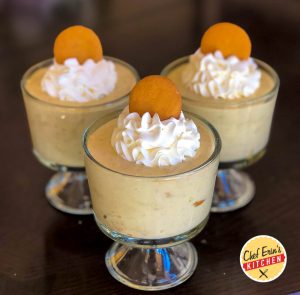 Banana Pudding