Gluten-Free/Dairy-Free/Vegan
It's not very often that my non-foodie husband gets excited about food, but this is one of those rare occasions that I see his eyes light up with excitement of the pure mention of this dish. Summer is here, which means peaches are everywhere. Am I the only one who constantly sings the song "Peaches" by the Presidents of the USA from the nineties? Millions of peaches, peaches for me.
Anyway, we drove past a local peach stand and I mentioned how it's peach season. He excitedly said, "Ohh, Peach Cobbler!!" You know what? I haven't made a gluten-free, dairy-free version of Peach Cobbler that I can enjoy, but realized this could be easily accomplished. "I'm on it," I replied with a sly smile.
Does he really need to know that I'll be making a Vegan version of this blissful dessert?
Nope.
I'm sure he'll realize it when he sees me eating some of it, too. I'll just have to wait until he's already started eating some and give me his honest opinion before I start shoveling some into a bowl and into my mouth, too. Gotcha.
I also made a point to get some Vegan vanilla ice cream at the store so I could experience the full effect as well. Mission accomplished.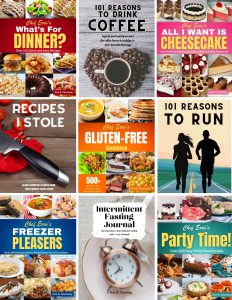 Peach Cobbler
For the Filling
8 ripe peaches, peeled, cored, and sliced
3/4 cup granulated sugar
1/4 teaspoon salt
For the Batter
8 tablespoons plant butter, melted
1 1/4 cup gluten-free all purpose flour
1 cup granulated sugar
1 tablespoon baking powder
1/4 teaspoon salt
3/4 cup non-dairy milk (I use oat or almond)
Preheat oven to 350 degrees. In a sauce pan, combine peaches, sugar, and salt. Stir together, cook on medium heat until the sugar is dissolved. Set aside. Pour melted butter into a 9×13 inch baking dish. In a medium size mixing bowl, whisk together the flour, sugar, baking powder, and salt. Add non-dairy milk and stir, just until combined.  Pour the batter into the baking dish and gently stir together with butter. Spoon the peaches and juice over the batter. Place dish in oven and bake for 35-40 minutes. Serve warm with ice cream and a smile.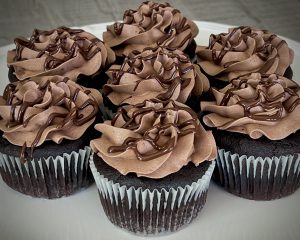 Death by Chocolate Cupcakes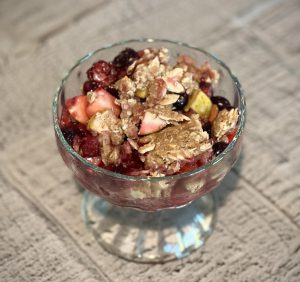 Fruit Crumble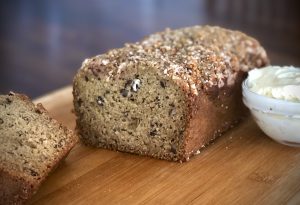 Banana Nut Bread with Whipped Honey Butter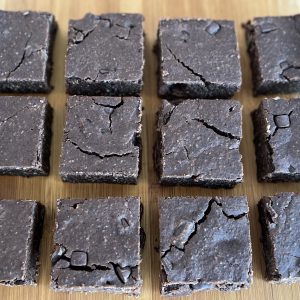 Black Bean Brownies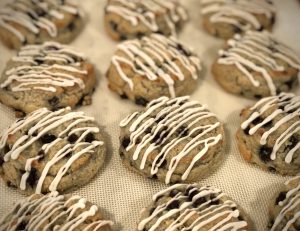 Lemon Blueberry Scones