Click HERE to watch the tutorial video of this recipe!
One of the biggest problems I face when deciding what to cook for dinner is choosing between Mexican and Italian. Those are my two favorite styles of food, which is ironic because I'm a Southern, ginger, white girl. As in, people ask me, "Don't you ever get out in the sun?" My most common response is, "If all of my freckles connected, I'd have a killer tan."
The first recipe I posted about having the problem with deciding between the two was the Taco Chicken Mac 'n Cheese. That dish was developed first, but this creation came from two different sources.
First of all, I wanted to make a freezer meal that does NOT include pasta. Crazy talk, right? Second, I wanted to create a sauce that was similar to one I use when making Chicken Quesadillas. When I started experimenting with the ingredients here, I was like a mad scientist in my lab. The only difference between me and a mad scientist is that in most cases, it's safe to eat the experiment.
Well, unless you OVER eat the experiment, which is what I do ALL THE TIME with this recipe. In all honesty, when I made the video, I was STUFFED afterward because I couldn't stop eating it. I stepped away from the camera, then shut it off so I could eat some more. It's okay, the margaritas balance everything out.
Recommended Books
Quesadilla Lasagna
24 oz. sour cream
1 lb. fajita style cooked chicken, diced
1 lb. Mexican blend cheese
18 flour tortillas (make this Gluten-Free by using corn tortillas)
1/2 tablespoon garlic powder
1/2 teaspoon cayenne
2 tablespoons sugar
2 tablespoons cumin
2 tablespoons paprika
1/4 cup jalapeno juice
2-3 cups grated mozzarella cheese (for topping)
Preheat oven to 350 degrees. In a large mixing bowl, combine the sour cream, garlic powder, cayenne, sugar, cumin, paprika, and jalapeno juice. Whisk together well. Stir in chicken, followed by Mexican blend cheese. Layer 6 tortillas in a greased 9×13 inch baking dish. Spoon a third of the chicken mixture on top of the tortillas and spread into an even layer. Repeat this process two more times, then sprinkle mozzarella cheese on top. Place dish in oven and bake for 30-40 minutes, or until cheese on top is melted and lightly browned.
**MAKE AHEAD INSTRUCTIONS**
If you are going to eat this within 7 days, cover dish with plastic wrap and store in refrigerator until ready to eat. Baking time will slightly increase to 35-45 minutes.
If you are going to freeze, cover with plastic wrap and aluminum foil and place in freezer for up to 3 months. Thaw in refrigerator before baking, cooking time will increase depending on how thawed out it is. Cooking time from frozen is 60-75 minutes.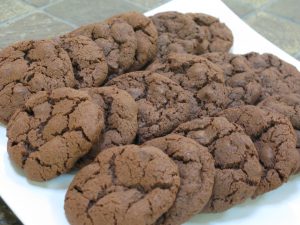 Cayenne Chocolate Cookies