While browsing through my recipe brainstorm list, I came across this one. I had NO idea how I was going to execute this cake, but knew it had to be done. So, I started researching what other S'mores Cakes looked like on the internet. It had to have the three main ingredients that make s'mores…chocolate, graham crackers, and marshmallows. 
When I decided to make three layers of dark chocolate cake on top of a graham cracker crust, marshmallow creme had to be part of the equation between the layers. It also had to have chocolate ganache smothered on top with TONS of marshmallows, chocolate chunks, and graham crackers. Done.
Marshmallow creme is very sticky, so putting this between the layers was tricky and interesting. It was hard to spread, and once the cake was assembled it oozed out uncontrollably. While explaining the messiness of it to my best friend, she said, "But that's good! When have you ever eaten a s'more that's not messy?" That might be one of the most accurate statements I've ever heard in my life. Eating a s'more gracefully is not something I see many people master, but who would want to? That takes the fun out of it. Besides, I can't see someone eating a S'more alongside a fancy cup of tea. Personally, I think it'd go incredibly well with a Spiked Hot Chocolate.
If you prefer not to have all the ooziness in between the layers, just mix it in with the buttercream icing for less ooziness that will be evenly distributed all throughout the cake. Problem solved.
Recommended Books
For the Graham Cracker Crust
3 cups graham cracker crumbs
1/3 cup light brown sugar
1 1/2  cups unsalted butter, melted
Combine all ingredients in a small mixing bowl and toss together until well-combined, press evenly into three 8 inch greased cake pans.
For the Chocolate Cake
2 cups all purpose flour
2 cups sugar
¾ cup cocoa
2 teaspoons baking powder
1 teaspoon baking soda
1 teaspoon salt
1 cup buttermilk
½ cup oil
2 eggs
2 teaspoons vanilla extract
1 cup strong coffee
Preheat oven to 350 degrees. Combine flour, sugar, cocoa, baking powder, baking soda, and salt in a medium size mixing bowl (or standing mixer). Add wet ingredients and beat at medium speed for 1-2 minutes, until smooth. Spoon batter into three 8 inch cake pans on top of graham cracker crust. Bake for about 35 minutes or until toothpick inserted in center comes out clean. Cool in pans for 10 minutes, then remove cakes from pans and cool completely on cooling racks.
For the Filling
2 (7 oz.) containers marshmallow creme
For the Icing
1 1/2 lbs. unsalted butter, softened
7 cups confectioners sugar
1 tablespoon vanilla extract
Beat butter at medium/high speed for 3-4 minutes in a medium size mixing bowl or standing mixer until whipped and fluffy. Add confectioners sugar and vanilla, continue beating for another 3-4 minutes. Set aside until ready to use.
Chocolate Ganache
1 cup semisweet chocolate chips
1/2 cup heavy cream
Heat heavy cream in a microwave safe dish for 45-60 seconds, or until bubbling. Pour over chocolate chips in a small mixing bowl, whisk together until chocolate chips are melted and smooth.
Garnish
mini marshmallows
graham crackers
chocolate bars
Putting It Together
When cake layers have cooled completely, place one layer on a cake stand. Spoon half of icing in a pastry bag, snip off about 1 inch of the end. Squeeze icing just around the top edge of the bottom cake layer, this helps hold in the marshmallow creme. Using an angled spatula, spread one container of marshmallow creme on top of the cake into an even layer. Place another cake layer on top and repeat process. When the third cake layer is on top, cover top and sides of cake with buttercream icing, reserving a small amount for decorating the top (if desired). Spread chocolate ganache on top of cake with an angled spatula, letting it drip over the sides for the smothered effect. Place cake in fridge or freezer for chocolate ganache to set before piping on remaining buttercream icing, along with mini marshmallows, graham crackers, and chocolate bars. Best served immediately, but store any leftovers in cake carrier at room temperature for up to 3 days.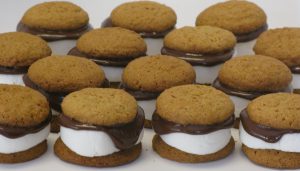 S'mores Cookies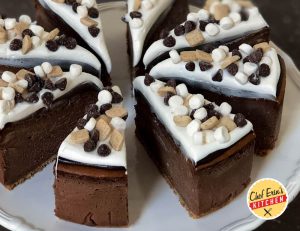 S'mores Cheesecake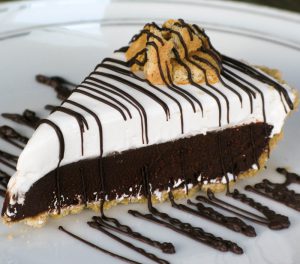 S'mores Pie