Gluten-Free
If you're looking for a little twist on a classic side dish that's perfect for social gatherings, you have come to the right place. I can't think of many people who don't like mashed potatoes (do they actually exist??), so when you load them up with extra goodness, it comes as no surprise how delicious they turn out. With Thanksgiving right around the corner, this is a fantastic time to try it out on unsuspecting friends and family.
When we had some friends coming over for dinner, I wanted to make side dishes that wouldn't consume all of my time preparing so that I could focus more on flapping my jaw with a bestie. That's a pretty important part of having people over for dinner, being able to enjoy a glass of wine while talking each other's ears off. So, anything that has the possibility of being made ahead is a HUGE win. This is one of those items, since I slapped it all together in a dish and set it aside until time to pop it in the oven to bake. This can also be frozen, which means you can make it wayyyy ahead of time if needed!
Smothered Mashed Potatoes
6 medium/large russet potatoes, peeled and cubed into 1 inch pieces*
1 oz. packet ranch dressing
1 cup butter
1 cup half and half
1/2 cup hot potato water**
8 oz. sour cream
sea salt, to taste (I used 1 tablespoon in this recipe)
12 oz. grated sharp cheddar cheese
2.5 oz. package real bacon bits
Put potatoes in a large pot with salted water, bring to a boil and cook potatoes until tender, about 25 minutes. While potatoes are cooking, heat the butter and milk in a small saucepan on medium heat. When mixture is melted and hot, turn to low heat. When potatoes are done cooking, dump into a medium size mixing bowl; mash well with a potato masher. Add melted butter, hot potato water, and milk, beat at medium speed with electric mixer until well-blended. Add ranch dressing mix, sour cream, salt, and pepper. Continue mixing with electric mixer until creamy. Spoon mashed potatoes into a 9×13 inch baking dish, spread into an even layer. Sprinkle cheddar cheese and bacon bits on top. When ready to eat, bake in oven at 350 degrees for about 35-45 minutes, or until cheese is melted.
Freezer Instructions: Cover and store in freezer for up to 4 months, pull out to thaw overnight and cook according to above directions. If cooking directly from freezer, add 30 minutes to baking time.
*If you would love to sneak some veggies into a meal without your family knowing it, use a batch of Sneaky Mashed Potatoes (with hidden cauliflower) as the base for this recipe! Just add the Ranch dressing, sour cream, and top with cheese and bacon! No one will know, it'll be our secret that you tricked your family into eating cauliflower and enjoying it!
**What?! This was a little trick I learned in culinary school to add more liquid to your mashed potatoes when you need them to have a creamy texture without adding too much dairy. Adding cold liquid changes the consistency of the potatoes, and is more likely to stick to the roof of your mouth.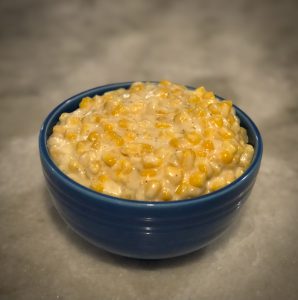 The BEST Creamed Corn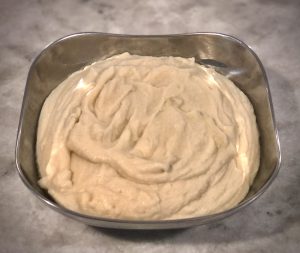 Sneaky Mashed Potatoes (with pureed cauliflower)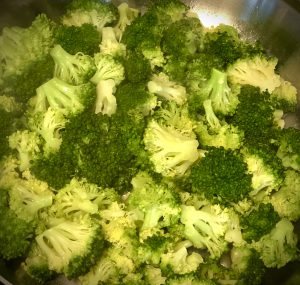 Our Favorite Broccoli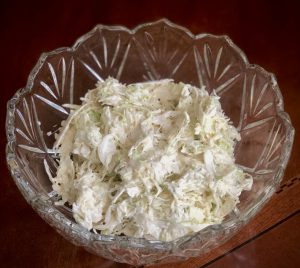 Simple Slaw