Gluten-Free/Dairy-Free/Vegan
With Easter quickly approaching, it's time to make the Easter Bunny's favorite cupcakes. What's the Easter Bunny's favorite cupcakes? Carrot, of course. I should start a joke book. Just kidding, it would be terrible.
This is one of those recipes where people argue back and forth on whether or not they should have nuts. Since I love nuts in basically everything, my vote is a big fat YES. My husband is on the opposite end of the spectrum, who says, "Nuts should only be eaten by themselves or in Banana Nut Bread." Obviously, he's crazy. Or should I say nuts?
No, I really shouldn't write a joke book.
No matter what your preference is, these cupcakes are sure to hit your taste buds and even trick your family and friends into eating something healthier than what they're used to. All kinds of winning going on here.
Carrot Cake Cupcakes (makes 18 cupcakes)
For the Cupcakes
2 cups flour (my favorite is Oat Flour)
1 1/2 cups sugar (my favorite is Maple Sugar)
1 teaspoon baking powder
1 teaspoon baking soda
2 teaspoons ground cinnamon
1/2 teaspoon salt
2 tablespoons ground flaxseed + 6 tablespoons water (let sit for 2-3 minutes)
1/2 cup oil (my favorite is coconut or avocado oil)
1 teaspoon vanilla extract
1 tablespoon apple cider vinegar
2 heaping cups grated carrots
1/2 cup chopped pecans (if desired)
Preheat oven to 350 degrees. In a medium size mixing bowl or standing mixer, combine flour, sugar, baking powder, baking soda, cinnamon, and salt. Slowly stir together, then add flaxseed mixture, oil, vanilla, and apple cider vinegar. Beat at medium speed for about 1 minute, until combined. Add grated carrots, nuts (if desired) and beat slowly just until combined. Fill lined muffin cups in a muffin pan 2/3 full, place in oven to bake for 16-18 minutes. Remove from oven, transfer cupcakes to cooling rack to cool completely.
For the Icing
1 cup plant butter, softened
4 cups confectioners sugar
2 teaspoons vanilla extract
Place butter in a medium size mixing bowl or standing mixer, beat at high speed for 2-3 minutes. Add confectioners sugar and vanilla, continue mixing for another 2-3 minutes. Transfer icing to a pastry bag with cake decorating tip (my favorite is 1M), pipe on top of cooled cupcakes. Store in refrigerator for up to 5 days, or in freezer for up to 6 months.
*If making cupcakes that have nuts in them, make sure to put more nuts on top of the icing so people know that these cupcakes are nutty. I know too many people with nut allergies (or are crazy and don't like nuts), so this is an easy way to make sure people know what they're getting themselves into.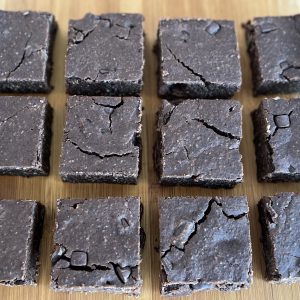 Fudgy Black Bean Brownies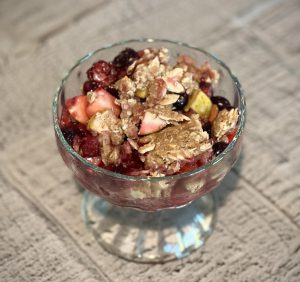 Fruit Crumble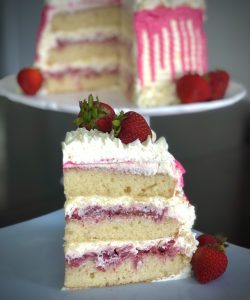 Strawberry Shortcake Layer Cake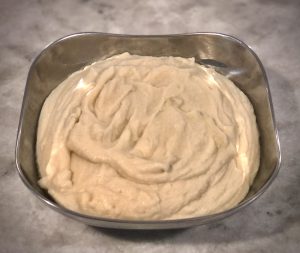 Sneaky Mashed Potatoes (with hidden cauliflower)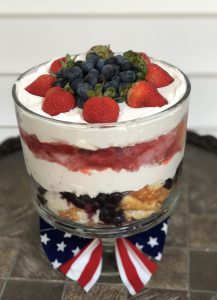 Berry Trifle