While nosing around in the pantry one afternoon looking at ingredients, I came across some white chocolate chips and macadamia nuts. Ohhh, I LOVE that combination, let's make something with those, I thought. Ever since I made my husband a batch of the Butterscotch Brownies, I wanted to experiment with other flavors melting the chips with butter and incorporating them into the batter. Well, here was the perfect opportunity.
I went back and forth deciding on whether or not it would be necessary to add chocolate chips, since a whole bag of them was being used in the batter. I decided against it to focus more on chunks of macadamia nuts, and added a white chocolate drizzle on top. If these blondies aren't white chocolate macadamia nutty heaven, I don't know what is.
White Chocolate Macadamia Nut Brownies
12 oz. bag white chocolate chips
1/2 cup unsalted butter
2 cups light brown sugar
2 cups all purpose flour
2 teaspoons baking powder
1 1/2 teaspoons sea salt
4 eggs
1 teaspoon vanilla extract
1 teaspoon almond extract
1 cup chopped macadamia nuts
Preheat oven to 350 degrees F. Combine flour, baking powder, and salt in a small mixing bowl and set aside. Melt white chocolate chips and butter in a microwave safe dish in 30 second intervals, stirring in between each interval until melted and smooth. Transfer to a mixing bowl or standing mixer, add light brown sugar and beat at medium speed with electric mixer until well combined. Add eggs and extracts, beat just until combined. Add dry ingredients and beat again, just until combined. Stir in macadamia nuts. Line a 9×13 inch baking pan with parchment paper (hanging over edges) and coat with cooking spray. Spread brownie batter evenly into pan, place in oven and bake for 25-30 minutes. Place pan on cooling rack to cool. When brownies have cooled, pull out of pan using the edges of parchment paper and transfer to cutting board before cutting into pieces with a sharp knife.  Store in airtight container for up to 3 days.
Freezer Instructions: After you have cooled and cut brownies, wrap individually in plastic wrap and place in a ziplock bag or airtight container. Store in freezer for up to 3 months, pulling out brownies to thaw and enjoy as needed!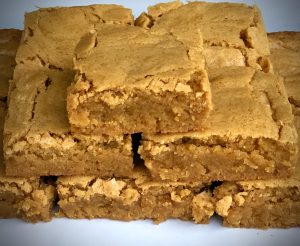 Butterscotch Brownies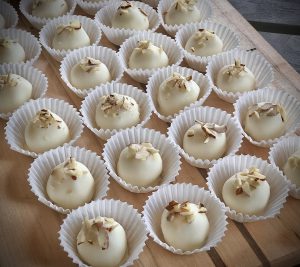 White Chocolate Amaretto Truffles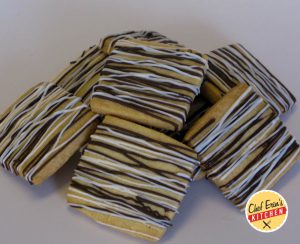 Chocolate Drizzled Shortbread Cookies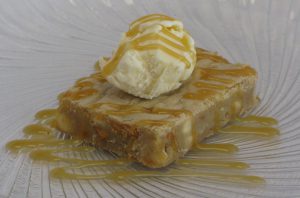 Blondies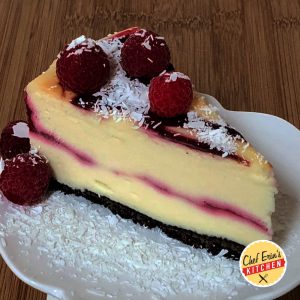 White Chocolate Raspberry Cheesecake