Have you ever found yourself staring at the dessert menu in a restaurant, unable to decide on just one item?  It's a true crisis at times, especially when you want to order everything you see, but clearly your waistline doesn't agree.  Your best option is to go out to eat with several people who have a weak spot for desserts so you can all share one, or everyone get something different to sample each one.  Numerous times I've been out with people who claim they don't want dessert, but as soon as it hits the table, they've eaten more than I have.  How does that happen?
I was caught in this exact situation while looking over the dessert menu with some friends at a small restaurant in St. Petersburg that brings their desserts in from a bakery.  We ended up each getting our own dessert, rotating them around the table like it was a professional taste-testing event, nodding and making noises with each bite.  I couldn't believe the amazing flavor of white chocolate with swirled raspberry filling throughout this cheesecake and a chocolate crust.  We even took chunks out of my friend's husband's carrot cake that was so nicely packed in a to-go box.  Acting as damage control, we were preventing him from feeling guilty over eating such a large piece of cake.  That's heartfelt consideration, folks.
Recommended Books
White Chocolate Raspberry Cheesecake
For the Crust:
1 ¼ cups chocolate graham cracker crumbs
2 tablespoons granulated sugar
5 tablespoons unsalted butter, melted
For the Filling:
4 (8 oz.) packages cream cheese, softened
¼ cup cornstarch
1 2/3 cups granulated sugar
2 eggs
1 tablespoon vanilla extract
¾ cup heavy cream
10 oz. white chocolate chips
For the Raspberry Swirl:
10 oz. frozen raspberries, thawed
1 tablespoon cornstarch
For the Topping:
Fresh raspberries
White chocolate, chopped or grated
Preheat oven to 350 degrees. Double-wrap the outside of a 9 inch springform pan with heavy duty aluminum foil, place inside a 12 inch cake pan. Place graham cracker crumbs and 2 tablespoons sugar in a small mixing bowl, toss together. Add the melted butter and mix with your hands until thoroughly combined. Rub butter all along the bottom of the springform pan, then press mixture evenly along the bottom. Place pans in the oven to bake for 7 minutes, remove pans from oven and set aside.
Heat ¾ cup heavy cream in microwave for 45-60 seconds, or until it starts to boil. Pour over 10 oz. white chocolate chips in a small mixing bowl and whisk together until melted, set aside. In a blender, puree thawed raspberries until smooth. Push through a wire mesh strainer, removing seeds. Whisk in 1 tablespoon cornstarch and set aside. In a standing mixer (or in a mixing bowl using an electric mixer), add 8 oz. cream cheese, cornstarch, and 2/3 cups sugar. Beat at medium speed with the paddle attachment until mixture is smooth. Add another 8 oz. cream cheese, along with 1/3 cup sugar and continue to beat until smooth. Add remaining cream cheese and granulated sugar, one at a time, until smooth. Slow mixer to stirring speed, add vanilla, and one egg at a time, scraping down the sides. Turn on to stirring speed and slowly add melted chocolate just until mixed in (do not overmix). Spoon half of mixture into springform pan on top of crust and spread into an even layer. Drizzle half of pureed raspberry mixture on top and spoon remaining batter on top. Drizzle remaining pureed raspberry on top, take a knife and careful swirl batter.
Pour warm water into the larger cake pan, creating a water bath (this prevents cracks). The water should come up at least 1 inch around the springform pan. Carefully place pans in oven and bake for about 1 hour 25 minutes, until lightly browned on top. Remove pans from oven, pull the springform pan out of the larger pan and place on a cooling rack for about 4 hours to cool completely. Remove aluminum foil from around pan.
Cover springform pan with plastic wrap and place in freezer to set for at least 4 hours, but preferably overnight. Remove plastic wrap from springform pan. Release and remove sides of springform. Place a piece of parchment or wax paper on top of cheesecake, turn upside down on a flat surface. Carefully remove bottom of pan, turn back over onto a serving plate.
Cut into slices with a sharp, straight edged  knife, wiping knife between each cut. Garnish with fresh raspberries and grated chocolate, if desired. Store cheesecake in refrigerator until ready to serve for up to 7 days, or in the freezer for 1 month.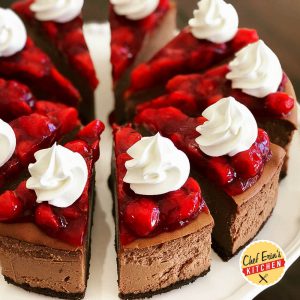 Black Forest Cheesecake