Have you ever tried an appetizer somewhere that made you remember the party?
The first time for me and a corn dip was at a baby shower about 10 years ago. My best friend made it, and I hovered over it, barking at anyone who tried to come near it and steal some away.
After looking at the recipe and grimacing at some of the process (the original list had about 12 ingredients and it took 30 minutes just to prep), I decided to improvise. This recipe is much easier and has less ingredients, but still has people turning into werewolves once they take a bite.
I've been a vendor at several events in the past few years, and this is one item that I ALWAYS have for people to try. After missing the last vendor event, the coordinator said that a lot of people came up to her, asking where I was with the Creamy Corn Dip. Seriously. Friends and family have asked me before if I had slipped something crazy into certain recipes because they are so addictive, and this made the top of the list.
This has become a very popular item on the menu for all of my fellow werewolves.
(Corn Dip photo by Kim Byer)
Recommended Books
Creamy Corn Dip 
24 oz. frozen corn
1 cup mayonnaise
8 oz. cream cheese, softened
1 cup grated sharp cheddar cheese (or other grated cheese of choice) plus a little extra for sprinkling on top
1 teaspoon onion powder
1/2 garlic powder
1/2 teaspoon salt
1/4 teaspoon black pepper
2 tablespoons butter, melted
In a medium size mixing bowl, combine mayonnaise, cream cheese, cheddar, and seasonings. Beat with electric mixer at medium speed until well combined, add melted butter and mix again. Gently stir in frozen corn and place in 8×8 inch baking dish. Sprinkle extra cheese on top. Preheat oven to 350 degrees, and bake for 35-45 minutes (until hot and golden brown on top). Serve with tortilla chips.
*Slow Cooker Instructions: After mixing together, spoon into a 2 quart slow cooker and cook on low heat for 2-3 hours, stirring occasionally until hot. Turn setting to warm and watch the werewolves come.
MAKE THIS "TACO TUESDAY!" FRIENDLY BY ADDING 2 TEASPOONS MEXICAN SEASONING AND USING PEPPER JACK CHEESE!
Freezer Meal Instructions: Double the recipe and distribute into casserole dishes, foil containers, or other freezer safe containers that you can pop in the oven when ready to eat. Cover and store in freezer for up to 3 months, thaw overnight in refrigerator when ready to bake.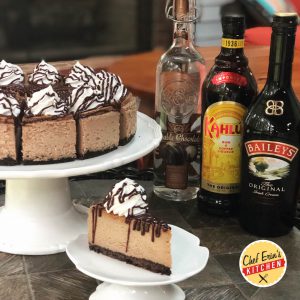 Mudslide Cheesecake