Have you seen the insanity going on with the Reese's Peanut Butter Cup Pies for Thanksgiving?? So, it turns out that only a certain number of these over-sized peanut butter cup pies were made. They sold out almost immediately, and now people are re-selling them for HUNDREDS of dollars. Well, how about we save you some money by making one at home for yourself? 
This pie is not just easy to make, but it is absolutely FANTASTIC. My grandmother used to make a no-bake peanut butter pie when I was a kid. Over the years, her recipe was lost after she passed away, so this is the improvised version. When I took it to my family to try out, both brothers fussed at me. My middle brother was the first to cut into the pie, skipping dinner completely. "This IS my pizza," he said as everyone else served themselves some pizza for dinner.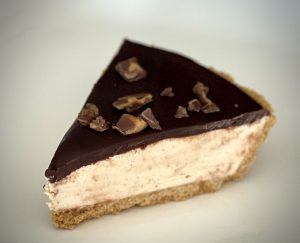 Next thing I know, my oldest brother (a true peanut butter fanatic) went in for a piece, along with both of my kids and my mom. All plates were literally scraped clean. My dad is in the other room and cried, "Alright now, y'all save me some of that pie!!" An hour after we got home, he was texting me how much he loved the pie. Mission accomplished, and I didn't have to drop $400 for a pie.
No-Bake Reese's Peanut Butter Cup Pie
1 graham cracker crust (or Oreo crust)
8 oz. cream cheese, softened
3/4 cup creamy peanut butter
1/2 cup confectioners sugar
4 oz. frozen whipped topping, thawed
1/2 cup semisweet chocolate chips
1/4 cup heavy cream
Reese's peanut butter cups, chopped
In a medium size mixing bowl, combine cream cheese, peanut butter, and powdered sugar. Beat with an electric mixer at medium speed for about 1 minute, or until smooth. Add whipped topping and continue to mix again until smooth. Spoon into graham cracker crust, spread into an even layer. Drizzle with chocolate syrup and sprinkle with chopped peanut butter cups. Place in refrigerator to set for at least 4 hours before serving.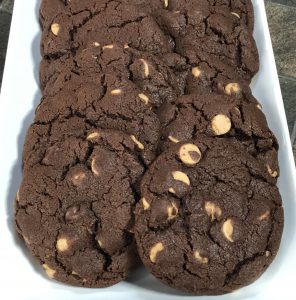 Double Chocolate Peanut Butter Cookies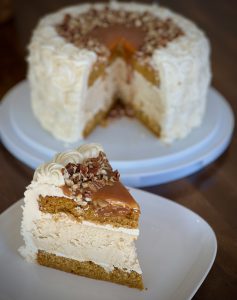 Thanksgiving Showstopper Dessert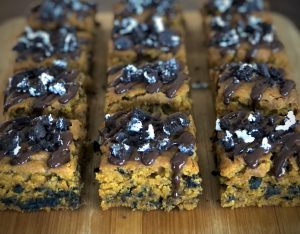 Pumpkin Oreo Brownies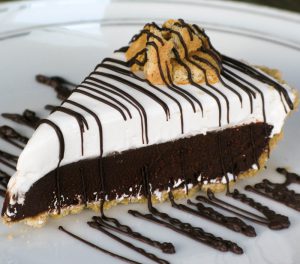 No-Bake S'mores Pie