Gluten-Free/Dairy-Free
A few years ago, I made a match of Pumpkin Blondies, and it gave me just another reason to look forward to Fall Baking. When I started experimenting with this recipe again, the original batch had chocolate chips. The second batch had cinnamon chips. Although they were both incredible, it hit me like a ton of bricks that OREOS could so easily be added to these babies…and who doesn't love Oreos?!
When they started making Gluten-Free Oreos, I was on board 1000% percent and started throwing them into random recipes that involved everyone's favorite cookie. My Oreo-loving husband even gave his stamp of approval when I asked him to try one and see how different it was. "Those really aren't bad at all, I'm impressed," as he chomped on a cookie. Neither one of my kids noticed a difference when I offered them a cookie as well.
Let's go back to discussing these brownies. At first, my daughter was skeptical with the combination of pumpkin and Oreos. She saw them in the oven and became curious, but as soon as she saw the end result with chocolate drizzled on top and more Oreos as a garnish, she was begging to try one. Both kids have been asking to pack them in their lunchboxes along with taking some extras to school for their teachers and friends.
These were such a huge hit not only with the kids, but also with the adults in my family raving about how much they loved them. My brother said, "That was stupid good," he declared, shaking his head. "Really? They're gluten-free and dairy-free!" I piped in and saw the look of surprise on his face. He was shocked that he liked something that was slightly healthy, how could that be?
One of my talents has become tricking people into eating something healthier than they would normally try, and I cannot begin to tell you how much I love doing this. It is way too much fun.
Pumpkin Oreo Brownies
2 cups Gluten-Free all-purpose flour
2 teaspoons ground cinnamon
1 teaspoon baking soda
1 teaspoon salt
1 cup coconut oil, melted
1 egg
1 tablespoon vanilla extract
1 2/3 cup maple sugar*
15 oz. can pumpkin puree
2 cups Gluten-Free Oreo cookies, crushed
Preheat oven to 350 degrees. Combine all ingredients (except crushed cookies) in a medium size mixing bowl or standing mixer and beat at medium speed with electric mixer for 1-2 minutes. Stir in cookies. Grease a 9×13 inch baking pan with cooking spray, then line with parchment paper (the cooking spray helps hold the parchment paper to the pan to spoon batter into it). Spoon batter into pan on top of parchment paper and spread into an even layer. Bake for 35-40 minutes, or until toothpick inserted in center comes out clean. Cool completely on cooling rack, spread or drizzle chocolate ganache and more crushed cookies on top, cut into squares. Store in airtight container for up to 4 days, or wrap individually and store in freezer for up to 3 months.
*Can be substituted with light brown sugar. I prefer maple sugar because it's a sweetener used in Paleo recipes, has a wonderful flavor, and has a lower glycemic index with more nutritional value than cane sugar.
Chocolate Ganache
1 cup semisweet chocolate chips
1 tablespoon oil (coconut, avocado, or vegetable oil)
Combine both ingredients in a microwave safe dish and heat in microwave in 30 second intervals, stirring until melted. Drizzle over cooled brownies.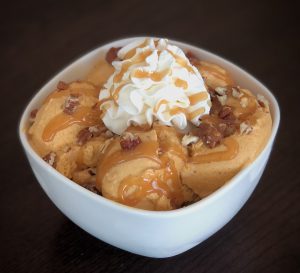 No-Churn Pumpkin Spice Ice Cream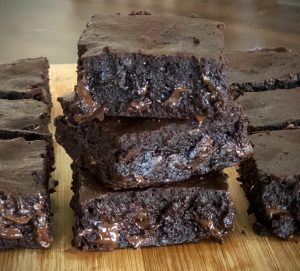 Dark Chocolate Fudge Brownies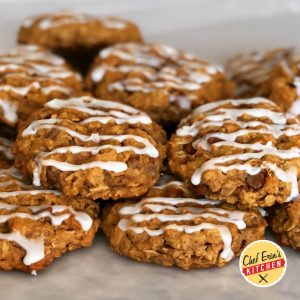 Pumpkin Oatmeal Cookies