This dessert is on my list of top five go-to sweet treats to take to a social gathering. It's easy, it's simple, and it's so incredibly delicious that non-dessert lovers will go back for seconds. A good friend of mine who isn't a big fan of desserts decided to give this dessert a taste when our family went to their house for dinner one evening. 
"Just a small piece for me," she said as I was loading up the plates for the kids and adults. She took her plate to the table and started eating it. Next thing I know, she finished her plate and went back for a second helping. I stared at her in shock.
"I literally never go back for seconds, so I hope you realize how good this is. It's now at the top of my list of favorite desserts you make," she says as she polishes off a second round.
"But it's SO easy to make, there's nothing that special about it!" I told her.
"Don't say that, tell her that you spent HOURS making it!" my husband laughed at me.
"No, I want her to be able to make it too!" I cried.
My goal was to not bring any home. We didn't.
Oreo Brownie Delight
1 box Duncan Hines Dark Chocolate Fudge Brownie Mix
1 egg
1/3 cup vegetable oil
1/3 cup water
1 small box instant chocolate pudding mix
2 cups milk
1 package Oreo cookies
8 oz. frozen whipped topping, thawed
Preheat oven to 350 degrees. Dump brownie mix into a medium size mixing bowl. Combine oil, water, and egg in a measuring cup and whisk together well. Pour over brownie mix, gently stir together with a spatula until mixture is well-combined. Spread into a greased 9×13 inch baking dish and bake for 20-22 minutes, until a toothpick inserted in center comes out clean. Cool completely on cooling rack.
In a small mixing bowl, whisk together instant chocolate pudding mix and milk. Place bowl in refrigerator to set for five minutes. Spread on top of cooled brownie into an even layer. Set 1 Oreo cookie aside to sprinkle on top of dessert when it is finished. Break remaining cookies into chunks and sprinkle evenly on top of chocolate pudding layer. Spread whipped topping on top to cover completely, crumble remaining cookie and sprinkle on top of whipped cream for garnish. Cover with plastic wrap and store in refrigerator until ready to serve for up to 7 days.
Freezer Meal Instructions: Cover with plastic wrap and store in freezer for up to 4 months. Pull out to thaw in refrigerator overnight when ready to enjoy!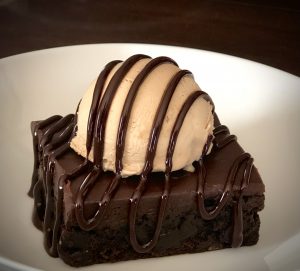 Espresso Brownies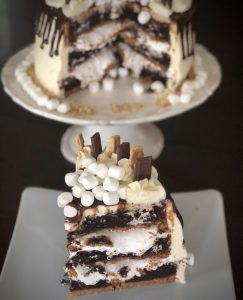 S'mores Layer Cake