Have you ever seen a bunch of people flock around a dessert like a bunch of wolves ready to pounce on a deer?  Well, that perfectly describes what happens every time I pull this trifle out of the fridge to serve.  It is by far the most popular trifle I've created, probably because it's nearly impossible to go wrong with Oreo ANYTHING. 
Trifles are easy to make, pretty, and make you want to lick the bowl clean.  Since most trifles have pudding and whipped topping in them, they always hang out in the fridge with all of the other cool food items…probably making them gawk at its beauty.  I have been known to stand in front of the fridge, staring at a trifle with a timer set and a big spoon in my hand.
Click HERE to watch my video of how to make this incredible dessert, and you'll see exactly what all the fuss is about.
Oreo Trifle Recipe:
1 box brownie mix (plus oil, water and eggs to bake)
1 package Oreo cookies
2 small boxes instant chocolate pudding mix
4 cups milk, divided
1 (8 oz.) container whipped topping
Following directions on brownie box, bake brownies in oven in a 9×13 inch baking dish.  Cool completely.  Combine pudding mix and milk in a medium size mixing bowl, whisk until blended.  Take half of brownies and crumble into bottom of a trifle bowl. Spoon half of pudding mixture on top of brownies.  Dip half of Oreos in milk (to soften) and place on top of pudding mixture in bowl.  Spoon half of remaining whipped topping on top of Oreo layer.  Repeat layering.  Top with crumbled Oreos, put plastic wrap on top and store in refrigerator until ready to serve, and up to 7 days.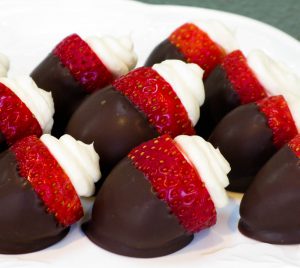 Chocolate Covered Cheesecake Stuffed Strawberries