Check out my YouTube Channel!!  
Where is your favorite place to get a good chicken quesadilla?
In the restaurant world, my favorite chicken quesadillas are from Cantina 76 on Devine Street in downtown Columbia, created by Chef David Grillo (who is awesome BTW). They use grated mozzarella cheese, slow cooked seasoned chicken, and sprinkle some pico de gallo in there with the meat and cheese. They also top it off with a BBQ sauce that has been pureed with ancho peppers and drizzled all over top of the quesadilla. Every time I order this, there almost isn't enough room in my belly for one of their fantastic margaritas. Key word here is almost…
Our family loves quesadillas, and since they're relatively easy to make, they usually make the list of regular dinner choices at home. The kids just like plain cheddar or mozzarella in theirs, but I started getting froggy with it. I wanted to love the quesadillas at home as much as I love the ones at Cantina 76. Playtime in the kitchen is my favorite time.
I do have a little confession to make… This may kill my credibility as a chef, but I can't help it. There was something I always liked about the chicken quesadillas at Taco Bell, too. You caught me. Come to find out, it's the sauce…and there's a copycat recipe of a sauce used in those quesadillas that I HAD to modify and slather it in mine at home. Oh my gawd, jalapeno juice and sour cream together in a sauce with Mexican spices? Sign me up.
This is my absolute favorite way to make quesadillas at home, and for good reason. The kick from pepper jack cheese is the perfect cheesy addition with the cheddar, which is why I love to use it and can't go without.
Awesome Chicken Quesadillas
4 large flour tortillas (to make this GLUTEN-FREE, use GF tortillas- my favorite brand is Mission)
4 oz. cooked, diced chicken (I buy the fajita-style cooked chicken at the grocery store)
4 oz. grated sharp cheddar cheese
4 oz. grated pepper jack cheese
Quesadilla Sauce (recipe below)
Heat an electric skillet to 300 degrees or a non-stick pan on medium heat on the stove. Spray the pan with cooking spray, then place a tortilla on top. Sprinkle about 1 oz. of each cheese on the tortilla, followed by 1/2 teaspoon of the Mexican Seasoning. Sprinkle about 1 oz. of chicken on one side of the tortilla (because you'll be folding it over), then drizzle the Sauce on top of the chicken. Cook for about two minutes, pulling the side without the chicken up slightly to check the bottom using tongs. When the bottom is light golden, fold it over on top of the other half using flexible tongs. Continue to cook for about 1 minute. At this point, you just want to make sure the cheese is melted. Using a flexible spatula, transfer finished quesadilla to a plate to cool slightly before slicing. My preferred method is to use a pizza cutter. Serve with queso or sour cream. Don't forget the margarita.
For the Sauce (Good in the fridge for up to 2 weeks)
½ cup mayonnaise
1 tablespoon jalapeno juice (from a small can of jalapenos)
1 teaspoon sugar
1 teaspoon cumin
1 teaspoon paprika
¼ teaspoon cayenne pepper
¼ teaspoon garlic powder
Combine all ingredients in a small mixing bowl and whisk together well. Store in airtight container for up to 2 weeks in refrigerator.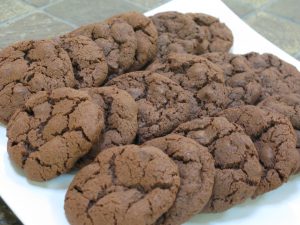 Cayenne Chocolate Cookies