Gluten-Free/Dairy-Free/Vegan
Check out my YouTube Channel!!
Have you ever taken pleasure in watching someone's reaction when they eat something new? This is one of those items when I intently watch an unsuspecting victim take a bite into these cookies.
At first, their face is calm, yet partially lit up because it's a chocolate cookie they're about to sink their teeth into. Next, you see their brow furrow as they look questionably at the cookie, recognizing that something is different. Then, they look up at you, asking what's in the cookie. Their eyes start to widen as the cayenne and cinnamon hit their taste buds at the same time. The slow moving spice quickly crawls up their jaw, then they take a breath. "Wow!" is usually the response, because they have NO idea what in the world just happened. They continue to take more bites, then take cookies to other unsuspecting victims for them to watch the entire process unfold on someone else, purely for their own entertainment.
These cookies are a fantastic addition to a Mexican Style Meal, especially since Cinco de Mayo is just around the corner!!
Cayenne Chocolate Cookies
1 cup + 2 tablespoons plant butter, softened
1 cup light brown sugar
1 cup granulated sugar
1 tablespoon molasses
2 cups gluten-free all purpose flour
3/4 cup unsweetened cocoa
1 teaspoon baking powder
1 teaspoon baking soda
1 teaspoon salt
1 teaspoon cayenne pepper
1 teaspoon cinnamon
2 tablespoons ground flaxseed + 6 tablespoons water (set aside to thicken)
2 teaspoons vanilla extract
2 cups dairy-free chocolate chips
Preheat oven to 350 degrees.  In a medium size mixing bowl, combine butter and sugar.  Using an electric mixer, beat at medium speed until mixture is fluffy.  Add flaxseed mixture and vanilla, continue mixing at medium speed until combined.  Add flour, cocoa, baking soda, salt, cayenne pepper and cinnamon, continue mixing until dough is well combined.  Stir in chocolate chips.  Using a cookie scoop, drop dough on silicone lined cookie sheet.  Bake for approximately 12 minutes, remove from oven.  Let cookies sit on cookie sheet for another 2 minutes before using a spatula to move cookies to cooling racks to cool completely.  Store in airtight container at room temperature.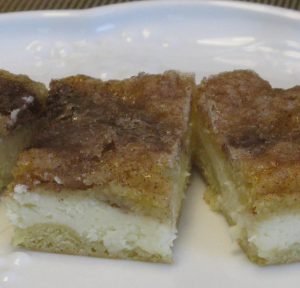 Sopapilla Cheesecake Pie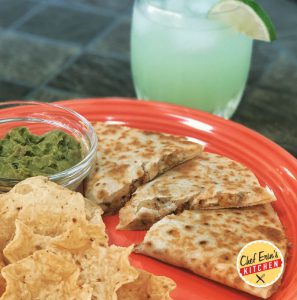 Awesome Chicken Quesadillas