Gluten-Free/Dairy-Free/Vegan
Check out my YouTube Channel!!
In college, my besties and I lived together for a year. NONE of us knew how to cook at the time, so our recipe library looked like something Bill Murray would eat in the movie "Groundhog Day." The running joke after all these years is that we ate a few things: Hamburger Helper, Taco Salad, Tuna Melts, and Chicken Helper with NO CHICKEN. When we threw parties (which was OFTEN), our "buffet" table consisted of chips, popcorn, and pretzels.Once you meandered into the kitchen, you'd find a large cooler filled with Party Punch. This stuff was dangerous. It was a concoction of FIVE different liquors, red Kool Aid, and fresh fruit that had been cut up and soaked in Everclear for most of the day. There may or may not have been a few parties when we woke up in the morning with random people sleeping in our living room (and one time there were a few people sleeping in the hall). Honestly, I'm surprised we can remember any of the details from back in those days. I'm just thankful we didn't have smartphones to take pictures and videos as often as we can today. Yikes. #thankful
We used to make Taco Salad with ground beef and a packet of taco seasoning, smothering it with Catalina salad dressing. Today, that is still my dressing of choice when we have this for dinner. Omg, and FRITOS on a salad??? Sign me up. This meal probably wasn't as healthy as it should have been back then, considering the lettuce was a small percentage compared to the ground beef, cheese, and Fritos. What college kid is super concerned about eating healthy though? We certainly weren't. My daily breakfast was typically a bagel drowning in butter, cinnamon and sugar, accompanied with a Capri Sun. Lord, help anyone who came over and tried to take one of my Capri Suns. Those were the days.
Many moons later, I introduced this recipe to my husband. He liked it, so it made the list of "safe" meals to make. So, when I had to start cleaning up my diet to resolve some digestive issues, I turned to the musical fruit as a replacement in a lot of recipes. And let's be honest here, incorporating beans into Mexican style recipes is easy. Like, RIDICULOUSLY EASY.
Hubs didn't even notice this new version didn't have meat when he started eating it. About halfway through the meal, it dawned on him…but he STILL LIKED IT.  Poor fella can't turn back now, that's already in my memory bank for the future if he tries to complain there's no meat in this dish anymore.
Black Bean Taco Salad (serves 4)
1 can black beans
1 can pinto beans
2 bags hearts of romaine salad
1 teaspoon All Purpose Mexican Seasoning
1 avocado, pitted and sliced
chopped tomatoes
corn chips (Fritos are my favorite for this dish)
Dressing of choice (I use Homemade Catalina-recipe below)
Cook beans in a medium size pot on medium heat on the stove. Stir in the taco seasoning for flavor, if desired. When beans are done cooking, use a slotted spoon and distribute over lettuce in bowls. Add remaining ingredients (as desired) and serve immediately.
**Make ahead tip**
You can store the cooked beans in airtight containers in the fridge and pop them in the microwave for a quick reheating option if you want to make a salad for yourself whenever needed!
Homemade Catalina Dressing
1/3 cup red wine vinegar
1/2 cup ketchup (I use no-sugar added)
1/2 cup honey
1/2 cup olive oil
2 teaspoons coconut aminos
1 teaspoon paprika
1/2 teaspoon onion powder
1/2 teaspoon garlic powder
Combine all ingredients in a small mixing bowl and whisk together well. Store in refrigerator for up to two weeks.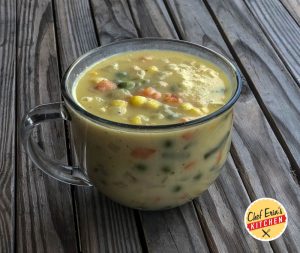 Hearty Vegetable Chowder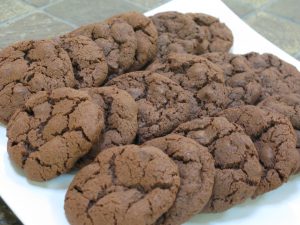 Cayenne Chocolate Cookies