Gluten-Free/Dairy-Free/Vegan
Check out my YouTube Channel!!
Think you can't have a delicious lunch that's ridiculously healthy?
Think again.
For a long time, I was partial to Brussels Sprouts and sweet potatoes…they've always been an "okay" kind of dish. Neither one of these excited me until I made them together, slathered them with olive oil, seasonings, and perfectly roasted in the oven.
I am officially hooked.
This immediately shot to the top five list of favorite lunches these days, especially since cleaning up my diet has lead to an amazing amount of energy. You know what the best part is? I'll eat the WHOLE THING and have no guilt. None.
If you struggle with finding something healthy to bring over to someone's house, this dish is here to help. I've taken this over to other people's houses as a potluck item. What happens if no one else wants any? That's okay, because there's MORE FOR ME. Score.
Roasted Sweet Potatoes and Brussel Sprouts
2 large sweet potatoes
1 pound brussel sprouts
2 tablespoons avocado oil or coconut oil
2 tablespoons maple syrup
2 cloves minced garlic
1 teaspoon dried Italian seasoning
1 teaspoon salt (kosher, sea salt, or pink Himalayan)
Preheat oven to 400 degrees. Peel sweet potato and cut off each end, creating a flat side. Cut into bite size pieces (about 1/2 each cubed) and toss into a medium size mixing bowl. Cut off ends and half each brussel sprout, peel off 1-2 outside layers. Toss into bowl with sweet potatoes. In a small bowl, mix together the garlic, Italian seasoning, maple syrup, and oil. Pour over vegetables in bowl and lightly toss, making sure all vegetables are coated with the oil. Spray a 9×13 inch baking dish with olive oil cooking spray, evenly spread vegetables into one layer. Sprinkle with salt. Bake for 40-45 minutes, until sweet potatoes are tender.
*You can eat all of this by yourself, or you can split it between 2 people and serve with a side of steamed veggies or side salad.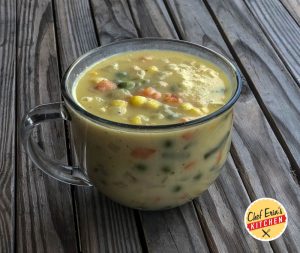 Hearty Vegetable Chowder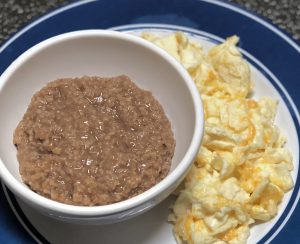 Quinoa Oatmeal