One of my husband's favorite cocktails is an Old Fashioned. For a long time, he kept experimenting with different ways to recreate his favorite drink at home, but nothing seemed quite right. He finally hit the jackpot after ordering Old Fashioned Cocktail Syrup, got the Old Fashioned Glass, and he even went as far as getting the big block ice tray. I chuckled when I saw he ordered maraschino cherries, until I tried them myself. The ones he got are specifically for cocktails, and the syrup is rich and thick…surpassing the quality of what I typically grab at the store.
Personally, I'm not a fan of how the Old Fashioned tastes. It was fun to see how the drink was assembled though with how classy it looks, so I decided to recreate a drink that would look very similar without the bitter taste.
When it comes to cocktails, I'm drawn to the sweet ones. Amaretto is one of those mild liquors that could be consumed on the rocks, especially when it's Disaronno. Those commercials always crack me up, but the quality is hands-down my favorite.
So, what makes this different from a traditional Amaretto Sour? The one you typically grab at a bar contain a lot more of the sweet and sour mix than the liquor itself, whereas this cocktail is equal amounts. This is where the darker color comes from, and it's quickly become one of my top three favorite cocktails to enjoy in the evening before dinner. Since Amaretto is not overly strong, the balance of the liquor and mix is perfect- along with that little extra from the maraschino cherry.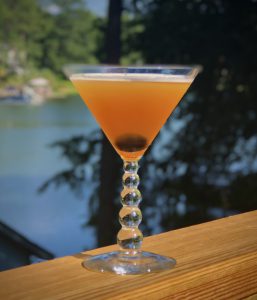 I've also made this exact same recipe as a martini. Just combine the liquor and sour mix in a shaker with ice and shake vigorously before straining into a martini glass and adding a maraschino cherry.
**If you want to make an Old Fashioned in the comfort of your own home, combine 2 oz. good quality whiskey (my hubby loves Buffalo Trace and Bulleit) with 1 oz. Old Fashioned Cocktail Syrup in an Old Fashioned Glass, with a big chunk of ice and maraschino cherry.**
Boujee Amaretto Sour
2 oz. Amaretto liquor (my favorite is Disaronno)
2 oz. Sweet 'n Sour Mix
Combine liquor and sour mix in an Old Fashioned Glass and stir. Add a big block of ice and a maraschino cherry for garnish.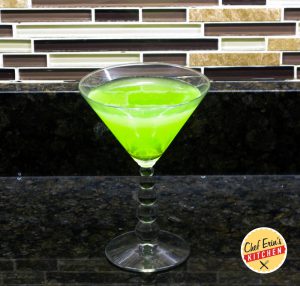 Green Apple Martini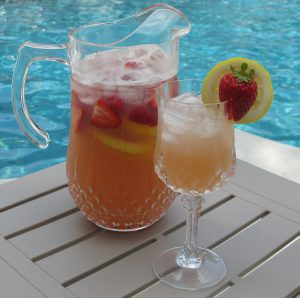 Lemon Strawberry Moscato Punch