Well, yesterday was the last day of being in my thirties…and I had several reminders from my mom, best friend, and husband. Even my daughter sweetly said, "Enjoy your day!" I've always been a HUGE fan of birthdays, and it's not just my own- it's EVERYONE'S birthdays. "It's your day! What do you want to do? What do you want to eat? Where do you wanna go? Anything special? You choose! It's YOUR day!" I beam with enthusiasm when it's a birthday.
My husband's ideal birthday is spending the day with just our immediate family, doing something fun and relaxing. We shower him with snuggles, the kids love bringing him a present to unwrap, his mom makes his favorite cake from childhood, and we go out to eat…with NO recognition from anyone at the restaurant that it's his birthday. Our daughter told a server last year when we went out about it being his birthday, and the server smiled as he walked off. I immediately hopped up and ran over to him, making sure that NO ONE would be coming to our table to sing or do anything to single him out.
I'm a little different. It's not a birthDAY, it's more like a birthWEEK!! Multiple celebrations, between dinner with family, something fun with friends, cocktails, comfort meals, cake, and everything in between. The way I see it is this…
Not everyone gets to see their next birthday, so every year you get to celebrate is worth it!!
To be honest though, this year has been…challenging. For several years, I have envisioned having a HUGE blowout party for such a milestone birthday. I mean, 40 is a big one! When I turned 30, it was during my first pregnancy. So, it was the middle of July and I was 8 1/2 months pregnant. I was hot, miserable, and couldn't even have a cocktail. It did not feel like it was worth celebrating at the time, so we had a small cookout with family.
Between this crazy virus and our home renovations, it was nothing like I had hoped. For the past several days, waves of happiness, frustration, exhaustion, appreciation, disappointment, and everything in between have come crashing all around. Staying positive is the key, so keeping it light and counting my blessings is the best way to push through…because it certainly could be worse, right?
So for my last meal in my thirties, this was the dish that we had for dinner. Oh, and I started out with an Apple Martini.
When I first started making freezer meals for my business in 2017, this was one of the most popular meals. I had a hard time keeping this one in stock whenever it was made, and it was also one of my family's personal favorites. It's a fantastic balance of chicken, three-cheese tortellini, and broccoli tossed in a scratch-made alfredo sauce that is topped with grated mozzarella cheese.
Chicken and Broccoli Tortellini
1 gallon half and half
2 pounds unsalted butter
1 1/2 cups all purpose flour
3 tablespoons minced garlic
8 oz. freshly grated parmesan
3 tablespoons kosher salt
3 pounds cheese tortellini
3 pounds cooked chicken, cut into bite size pieces
1 1/2 pounds broccoli florets
1 lb. grated mozzarella cheese
Melt butter in pot on medium heat until melted, then whisk in flour. Slowly add half and half and garlic, whisk and continue to cook for another minute. Continue to cook on medium heat, whisking occasionally to break up any clumps from the roux (the butter and flour mixture). While the sauce is cooking, cook the pasta according to package directions in a separate pot just until done. So, if the package directions say 3-5 minutes, pull the pasta off the stove right at 3 minutes, pour into strainer and run cold water over the pasta to stop them from cooking. Throw broccoli florets in boiling water for 3-4 minutes, remove from pot and rinse with cold water. When the sauce has been cooking for about 12-15 minutes and has thickened, reduce heat to low and stir in grated salt and grated parmesan. Remove pot from heat, stir in chicken, pasta, and broccoli. Serve immediately, or follow directions below for freezer meals.
*PREPARE AS A FREEZER MEAL: Distribute evenly into foil contaners, sprinkle with grated mozzarella cheese and let cool completely before covering and labeling. This is good for up to 3 months in the freezer, you can bake from frozen at 350 degrees for 1 hour 15-30 minutes, or thaw in the refrigerator and bake at 350 for 55-65 minutes.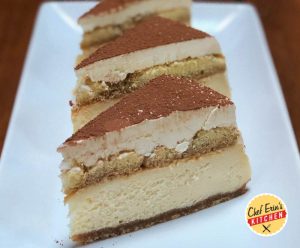 Tiramisu Cheesecake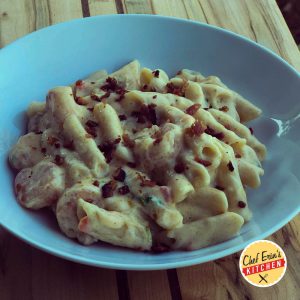 Southern Shrimp and Pasta