Watch the video tutorial of this recipe on YouTube!
Does food ignite specific memories for you? I have way too many memories that can be associated with food, whether it's amazing or downright yucky.
Last year, our family took a trip to Disney World. My mother-in-law came with us so that my husband and I could have a date night with my brother and sister-in-law. Built-in babysitter and an extra pair of hands to help (plus, we love her). While hunting through the restaurants in Disney Springs, they all sounded amazing…so I picked a place that had a wide variety of food that would cater to all of our different tastes and was rated well.
As we walked in to The Boathouse restaurant in Disney Springs, I was prepared. There was NO food in my stomach, and I was ready to put a hurtin' on whatever food looked at me. Everyone at my table is in danger of losing some of their food when this happens.
We started out with a hot, fresh batch of house-made yeast rolls that were served with perfectly softened butter. Those lasted about five seconds.
Next came my apple martini, because I'm a lush. Don't judge, we were on vacation.
As we were looking over the menu, I asked my hubs and sister-in-law what they were getting. No need to ask my brother what he was ordering, because I already knew…plain hamburger with fries. He's the adventurous eater in the family, as you can tell.
Hubs was going to get the Lobster Roll, and I couldn't decide between the Lobster Bisque and Crabcakes…so I ordered both.
Sister-in-law ordered the Cajun Mac 'n Cheese. I was curious.
The Lobster Bisque was so good that I had to hold myself back from licking the bowl clean. Don't test me with this, alcohol consumption greatly increases the possibility of this happening, even in a public place. Plus, we were on vacation and nobody knew me.
As I dug in to my delicious crabcakes, my eyes kept venturing over to the Cajun Mac 'n Cheese.
"Can I have a bite?" I asked her.
"Sure!"
Took a bite. My body slumped forward and closed my eyes for a few seconds as I chewed.
I no longer wanted my crabcakes.
I picked at my food and waited for sister-in-law to finish, because I knew she wouldn't be able to clean her whole plate.
She pushed it aside and set her fork down.
"Done?" I asked sweetly.
"Yep."
I smiled at her.
She rolled her eyes and smiled back. "Go ahead." She gets me.
Crabcakes were pushed aside and I started going to town on her dish.
So let's recap here… yeast rolls with butter, apple martini, lobster bisque, crabcakes, and although I can barely move at this point from being so stuffed, there was NOTHING that was going to pull me away from this incredible mac 'n cheese. Nothing.
We all waddled out of the restaurant and headed over to the Ghirardelli store.
And had dessert…
Hey, we were on vacation.
So, I came home and created my own version of the Cajun Mac 'n Cheese that sent me into a stuffed food bliss down in Florida. Mission accomplished. This is a beer cheddar bechamel sauce made with so much sharp cheddar it should be illegal, packed with freshly sauteed shrimp and andouille sausage, and a bite of cajun seasoning. Just in time for Fat Tuesday.
Cajun Mac 'n Cheese
1/2 cup unsalted butter
1/2 cup all purpose flour
6 oz. white ale beer (I typically use Blue Moon or something similar)
2 tablespoons cajun seasoning
5 cups whole milk
1/2 tablespoon kosher salt
2 pounds grated sharp cheddar cheese (plus a little extra for sprinkling on top)
1/2 pound fresh shrimp, peeled and de-veined
1/2 pound andouille sausage, cut into 1/2 inch slices
1 pound uncooked mezze penne pasta
Melt butter in a decent sized pot on medium heat. When the butter is melted, whisk in the flour and cook for another minute. Pour in the beer and whisk again, followed by the milk, cajun seasoning and salt. Continue to cook on medium heat, whisking occasionally to break up any clumps from the roux (the butter and flour mixture). While the sauce is cooking, cook the pasta according to package directions just until done. So, if the package directions say 8-10 minutes, pull the pasta off the stove right at 8 minutes, pour into strainer and run cold water over the pasta to stop them from cooking (this keeps the pasta from getting too mushy during the baking process).
Saute the shrimp with 1/2 tablespoon butter on medium heat until opaque, about 3-4 minutes, set aside. When the sauce has been cooking for about 12-15 minutes and has thickened, reduce heat to low and stir in cheese using a large spoon (if you use the whisk, the cheese will clump up and get all caught up in it). Continue stirring until cheese has completely melted. Remove pot from heat, stir in cooked pasta, sausage, and shrimp. Pour into 9×13 inch dish and sprinkle with extra cheese on top. Bake at 350 degrees for 25-30 minutes, let rest for 5 minutes before serving.
FREEZER INSTRUCTIONS:
Prepare as directed, cool completely before covering with plastic wrap and placing in refrigerator for up to 5 days, or freezer for up to 3 months. You can also double the batch and distribute into foil baking pans for more than one night's dinner.
*This can also be pre-made and heated in a crock pot! Prepare as directed, then pour into a crock pot. I've made this 2-3 days in advance, stored in the refrigerator and heated on low for 2-3 hours, stirring occasionally until hot and ready to eat. Great for potluck!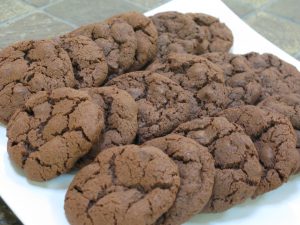 Cayenne Chocolate Cookies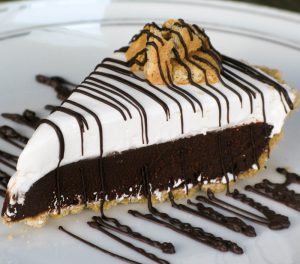 S'mores Pie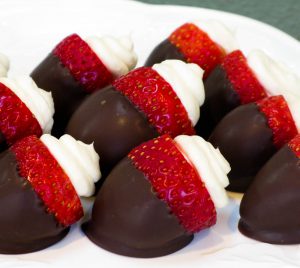 Chocolate Covered Cheesecake Stuffed Strawberries