Check out my YouTube Channel!!
When it comes to throwing any sort of social gathering, it's all about the food. Parties at my house are usually packed with appetizers and some sort of dessert, but the appetizers are where it's at.
And I'm not talking about fancy hors d'oeuvres.
I'm talking about the stuff-your-face, goes-great-with-beer, no-diet-here, carbs-and-cheese kind of appetizers that make your eyes pop out of your head just thinking about them.
Well, these Pizza Rolls definitely fall into that category.
Even though our family will still flock to the little frozen pizza rolls you grab at the store, they don't hold a candle to these guys…and with these, you get more quality AND quantity. That is definitely a double whammy winner in my book, and could eat my weight in these things.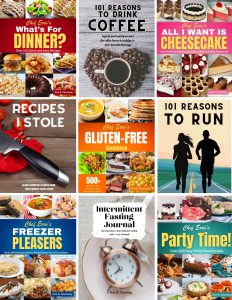 Pizza Rolls Recipe
2 (8 oz.) cans refrigerated crescent roll dough
8 mozzarella string cheese sticks, cut in half
32 slices pepperoni
1/4 cup olive oil
2 teaspoons Italian seasoning
Pizza or marinara sauce, for dipping
Preheat oven to 350 degrees. Spray 9×13 inch baking dish with cooking spray. Roll out crescent roll dough into individual triangles. Place two pieces of pepperoni side by side (slightly overlapping) at base of dough, then top with mozzarella stick. Roll up from the wide end, pinching sides so the dough completely covers the cheese. Place in baking dish. Combine olive oil and Italian seasoning in a small mixing bowl and whisk together. Using a basting brush, distribute evenly over each crescent roll. Bake for 15-17 minutes, or until tops are a light golden brown. Serve with warm sauce.
*You can also slice up some sausage to add them in with the pepperoni for a little something extra. You're welcome.
Freezer Meal Instructions: prepare as instructed above, cover dish with plastic wrap and store in freezer for up to 3 months. Thaw in refrigerator before baking, this is a great way to prepare ahead of time for a party!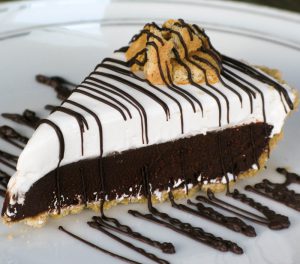 S'mores Pie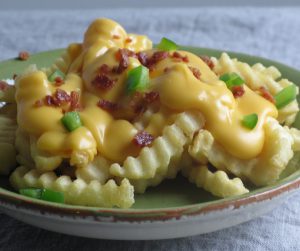 Smothered Cheese Fries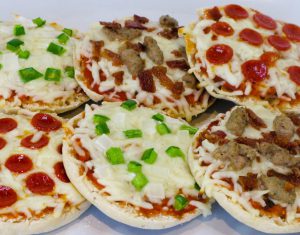 Mini Pizzas