Click HERE to watch the video of this recipe!
When you go to a restaurant, are there certain items that you look for in particular? The appetizer section of the menu always grabs me by the face, refusing to let me go until it is shown some love. In particular, I'm always up for some good cheese fries.
However, it can't be just ANY cheese fries.
I'm talking about the kind of cheese fries that have twelve pounds of melted cheese oozing all over crispy crinkle-cut fries with a sprinkle of bacon on top and served with a gallon of ranch dressing on the side. You know, the kind of cheese fries that have enough calories to feed a high school football team after they've played three games in a row and they haven't eaten in a week. Those are the kind of fries I'm looking for.
In college, my friends knew not to take a bathroom break or even look away from the table for more than a few seconds because their half of the fries would be gone. It's a little different these days after having kids and that good ole metabolism slows down, but my standards have not changed at all. Honestly, they may have gotten a little worse with age and recipe experimentation.
When making this at home, you can sleep easy at night knowing that your cheese fries had more than enough cheese on them.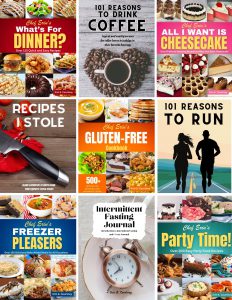 Smothered Cheese Fries
1 (20 oz.) bag crinkle cut frozen French fries
1 (10 ¾ oz.) can cheddar cheese soup
1/2 cup milk
3 cups grated sharp cheddar cheese*
1/4 cup real bacon bits
Cook fries according to package directions (baking or frying). While fries are cooking, prepare the cheese sauce. In a medium sauce pan, stir together cheddar cheese soup and milk, cooking on medium heat until hot. Add cheeses; continue to whisk as cheese melts. When fries are done cooking, place in a 9×13 inch baking dish or a serving platter. Pour cheese sauce over fries and top with crumbled bacon. Serve warm.
*Freshly grated cheese has a smoother, creamier consistency and melts better than the bags of shredded cheese. Add more cheese for a thicker sauce!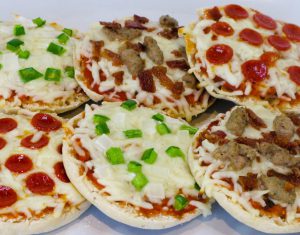 Mini Pizzas