On my original quest for a Red Velvet Cheesecake recipe, I kept running across the Red Velvet Cake layered with New York Cheesecake. That is not what I'm looking for! I thought. But omg, that looks AMAZING and I have to make that, too. 
Last year at Krafty Draft, Jack kept bugging me to make a Red Velvet Cheesecake when I really started experimenting with different flavors to put on the menu. Finally, I caved…and he was off work the day it was put on the menu. In an attempt to prevent being trolled over this ordeal (we are all very good at harassing each other with banter and sarcasm), I set aside a couple of pieces for him the next day he came in. Did the attempt work? OF COURSE NOT. I was trolled for MORE cheesecake.
I decided to turn my traditional New York style cheesecake into Red Velvet by adding cocoa, vinegar, and red food coloring. Since my family goes bonkers over cream cheese icing with Red Velvet Cake, it felt necessary to make a sweetened cream cheese topping as the best option. And who could forget the chocolate graham cracker crust? Not me.
Here is the Green Velvet version I made for St. Patty's Day and it was a very big hit!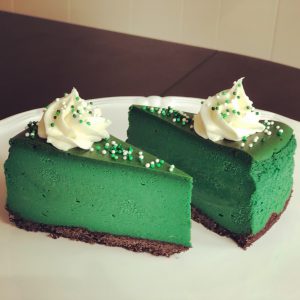 Knock your family and friends' socks off by making this fantastic cheesecake for the holidays!
Red Velvet Cheesecake
For the Crust
1 1/4 cups chocolate graham cracker crumbs
2 tablespoons granulated sugar
5 tablespoons unsalted butter, melted
For the Filling
4 (8 oz.) packages cream cheese, softened
1/4 cup cornstarch
1 2/3 cups granulated sugar
2 tablespoons unsweetened cocoa
2 eggs
1 tablespoon vanilla extract
1/2 cup heavy cream
*1 tablespoon red food coloring gel (or 2 tablespoons liquid red food color)
For the Topping
4 oz. cream cheese, softened
4 oz. frozen whipped topping, thawed
*Different types of food coloring have a different texture, which is why you will need less coloring if using paste, and more if you're using liquid.
Preheat oven to 350 degrees. Double-wrap the outside of a 9 inch springform pan with heavy duty aluminum foil, place inside a 12 inch cake pan. Place graham cracker crumbs and 2 tablespoons sugar in a small mixing bowl, toss together. Add the melted butter and mix with your hands until thoroughly combined. Rub butter all along the bottom of the springform pan, then press graham cracker mixture evenly along the bottom. Place pans in the oven to bake for 7 minutes, remove pans from oven and set aside.
In a standing mixer (or mixing bowl and using electric mixer), add 8 oz. cream cheese, cornstarch, and 2/3 cup sugar. Beat at medium speed with the paddle attachment until mixture is smooth. Add another 8 oz. cream cheese, along with 1/3 cup sugar and continue to beat until smooth. Add remaining cream cheese and granulated sugar, one at a time, until smooth. Slow mixer to stirring speed, add vanilla and one egg at a time, scraping down the sides. Turn on to stirring speed and slowly add heavy cream, beat just until mixed in (do not overmix). Spoon batter into springform pan on top of graham cracker crust and spread into an even layer.
Pour warm water into the larger cake pan, creating a water bath (this prevents cracks). The water should come up at least 1 inch around the springform pan. Carefully place pans in oven and bake for about 1 hour 15 minutes, until lightly browned on top. Remove pans from oven, pull the springform pan out of the larger pan and place on a cooling rack for about 4 hours to cool completely. Remove aluminum foil from around pan.
Cover springform pan with plastic wrap and place in freezer to set for at least 4 hours, but preferably overnight. Remove plastic wrap from springform pan, release and remove sides of springform. Place a piece of parchment or wax paper on top of cheesecake, turn upside down onto a flat surface. Carefully remove bottom of pan, turn back over onto a serving plate.
In a small saucepan, combine corn syrup and sugar. Cook on medium heat, until it turns into an amber color. Remove from heat, stir in butter until melted. Slowly add heavy cream and vanilla, stirring constantly. Transfer to heatproof container to cool before spreading into an even layer on cheesecake. Sprinkle with about 1/2 teaspoon sea salt, return to freezer for caramel layer to set.
Cut into slices with a sharp, straight edged  knife, wiping knife between each cut. Store cheesecake in refrigerator until ready to serve for up to 7 days, or in the freezer for 1 month.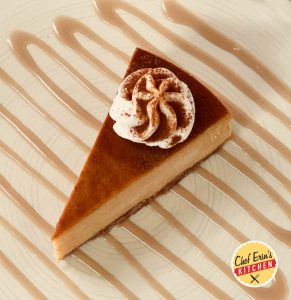 Pumpkin Cheesecake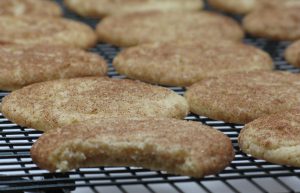 Snickerdoodles