Gluten-Free/Dairy-Free/Low-Carb/Keto/Paleo
Making dishes that are dairy-free, Keto-friendly AND delicious can be quite a challenge at times. Well, I do love a good culinary challenge, especially when I get to stuff my face with it. I made this for our family's Thanksgiving feast, and this was the side dish that drew me back in for another scoop on my plate.
Dairy-Free Keto Green Bean Casserole Recipe
8 slices bacon, cut into bite-size pieces
16 oz. white button mushrooms, stems removed and cut into 1/2 inch chunks
1 onion, diced
1 cup full-fat coconut milk
1 cup unsweetened almond milk
1/2 cup dairy-free cream cheese (I like Kite Hill brand)
3 (10 oz.) bags frozen steam-in-a-bag green beans
1/2 teaspoon black pepper
2-3 teaspoons sea salt (depending on how salty you like yours)
In a medium size pot, cook bacon until brown and crispy. Remove bacon from pot and set aside, leave bacon grease for cooking vegetables. Add mushrooms and onions, cook until soft. Add cream cheese and milks, cook until sauce has thickened to a soup-like consistency. While sauce is cooking, follow instructions on frozen green beans and cook in microwave, set aside. Add sea salt and pepper to sauce, then stir in green beans. Spoon into a 9×13 inch baking dish and bake for 25 minutes at 350 degrees, sprinkle bacon on top and continue baking for another 5 minutes. Remove dish from oven and let sit for 5 minutes before serving.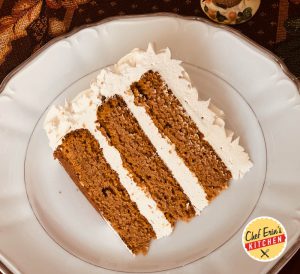 Dairy-Free Keto Pumpkin Cake