Have you ever looked at some food at a party and wondered if it was an appetizer or dessert? This is definitely one of those items that might have you scratching your head wondering, until you're completely distracted after you start eating it.
I'm a huge fan of soft and chewy cookies, which is one of the reasons I love these soft and chewy gingerbread cookies so much. They're beyond fabulous when you dip them in this sweet pumpkin dip, but you can also dip pretzels, Nilla wafers, shortbread cookies, Snickerdoodles, or apple slices in it for a variety of options.
Pumpkin Pie Dip
15 oz. can pureed pumpkin
8 oz. cream cheese, softened
2 cups confectioners sugar
1 teaspoon ground cinnamon
Combine sugar and cream cheese in a medium size mixing bowl and beat at medium speed with electric mixer until smooth. Add pumpkin and cinnamon, continue mixing until smooth. Serve with pretzels, cookies, and/or apple slices. Store dip in refrigerator for up to 5 days.
Soft and Chewy Gingerbread Cookies 
2 1/4 cups all purpose flour
2 teaspoons ground ginger
1 teaspoon baking soda
1 teaspoon ground cinnamon
1/4 teaspoon salt
3/4 cup butter, softened
1 cup light brown sugar
1 egg
1 tablespoon water
1/4 cup molasses
2 tablespoons granulated sugar
Preheat oven to 350 degrees. Combine flour, ginger, baking soda, cinnamon, and salt in a small mixing bowl and set aside. In a medium size mixing bowl or standing mixer, combine the butter and light brown sugar, beat at medium speed for 1-2 minutes, until creamy. Add the egg, water, and molasses and beat for about 10 seconds. Add dry ingredients and beat just until dough comes together. Using a cookie scoop to measure out dough, then place on silicone lined cookie sheet.  Bake for 12-14 minutes, until a light golden color.  Remove from oven, leave cookies on stone or sheet for another 10 minutes.  Transfer to a cooling rack lined with paper towels or parchment paper (this keeps the cookies from developing indentions from the cooling rack) to cool using a spatula.  Store in airtight container.
*Cookie size will determine baking time. If you want smaller cookies, use a smaller cookie scoop and adjust the baking time by 1-2 minutes, same with making them larger.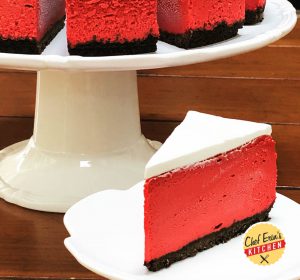 Red Velvet Cheesecake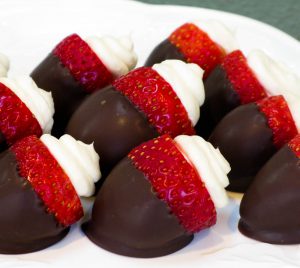 Chocolate Covered Cheesecake Stuffed Strawberries