Gluten-Free/Dairy-Free/Vegan
Do you have any trouble getting your family to eat their vegetables? Have you ever wondered what you can do in order to persuade them to eat more vegetables? It's easy!
Trick them.
Even if it's a grown man who refuses to eat vegetables, it's never too late to trick them. It's rare that we can get my brother (or his 12 year old son) to try anything out of his comfort zone, and his 6 year old nephew (my son) has a much broader variety of foods than he does. In fact, my brother is the one I love to trick into eating vegetables the most. Not only am I contributing to him having a healthier diet, but it's also entertaining to tell him that he just ate cauliflower and had NO idea. It might be better to not say anything at all, but I can't help it. Being his little sister, I'm supposed to irritate him when I can and thoroughly enjoy the process. Sibling love.
Personally, I could easily eat mashed cauliflower all by itself with no potatoes mixed in, but I also LOVE potatoes. The first time I made these for my family, nothing was mentioned about the process of how they were made. Not a single peep…until they started eating.
My husband took a bite as I watched him carefully and he said, "Oh wow, these are really good and creamy." I smiled, "It's the secret ingredient."
He looked up and saw the smirk on my face. "Do I want to know what you put in them?" he questioned. "It's no big deal, just cauliflower," I responded. He smiled, and continued to clean his plate.
If dairy isn't a problem for you, switch out the cream cheese with sour cream and dairy-free butter with regular butter. I try to cut it out when I can, since I have sinus congestion issues when eating too much dairy on a regular basis.
After taking some of these over to my super picky brother for him to try, I emphasized that if he didn't like them, DO NOT throw them away because I would eat the rest of them. They're like gold. The next day, I got a text message from him:
"Not blowing smoke, best mashed potatoes I've ever had."
Shocked, I responded, "I think you have the wrong number…"
"Well, if you'd pass that message to Erin I would appreciate it."
"OMG you ate cauliflower!" I texted back.
"Nevermind, I hated it."
Too late now!!! He's locked in forever, and my mission was accomplished.
Sneaky Mashed Potatoes
3 russet potatoes
2 (10 oz.) bags steam-in-a-bag cauliflower *or 1 head of cauliflower
4 oz. dairy-free cream cheese (Kite Hill is my favorite)
6 tablespoons dairy-free plant based butter (Country Crock Avocado Oil butter is my favorite)
1-2 teaspoons sea salt
1/2 teaspoon black pepper
3/4 cup hot potato water (from boiling potatoes) **say what??
Peel and cut up potatoes into 1 inch chunks, place in a pot of salted water. Place pot on stove and turn to medium/high heat to bring to a rolling boil. Boil potatoes for about 20-22 minutes, or until potatoes are soft enough to mash. Cook cauliflower according to package directions, puree in a blender until smooth with cream cheese, butter, and hot potato water. Drain potatoes, then transfer to a large mixing bowl and mash thoroughly. Pour cauliflower puree into mixing bowl with potatoes, add salt and pepper. Beat at medium speed with electric mixer until smooth and creamy.
*If using a head of cauliflower, chop off large stems and boil in hot water on stove until tender, about ten minutes.
**Using hot liquid while making mashed potatoes is a little trick I learned in culinary school. Not only does cold liquid (like water, cream, or milk) cool the potatoes down, they also change the consistency by making them less creamy. I use the hot potato water when making my mashed potatoes because it has that potato flavor, it's already hot, and by using another cream they won't be so heavy.
Freezer Instructions: Distribute potatoes in freezer safe containers and cool. Cover and store in freezer for up to 3 months, thaw and reheat as needed.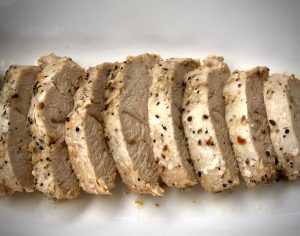 Slow Cooker Turkey Tenderloin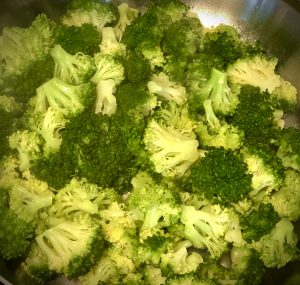 Our Favorite Broccoli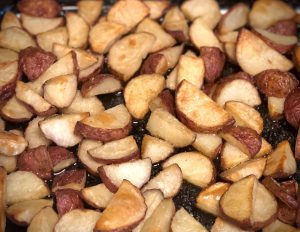 Oven Roasted Red Potatoes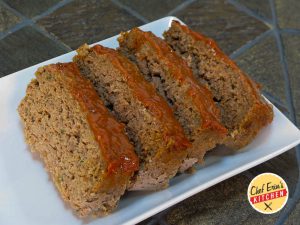 Easy Meatloaf