Gluten-Free/Dairy-Free/Low-Carb/Keto/Paleo/Vegan
For many years, you couldn't get my husband to eat broccoli unless it was smothered in cheese or a casserole…until I made this. Typically this steam/saute method I use is extremely versatile with many vegetables, so feel free to switch out your veggies. The first time it graced our dinner plates, he made a face about eating plain broccoli…until he took a bite. Since then, this dish is a regular (at least once a week) to make sure these crazy people in my house get some healthy food in their systems.
Depending on what butter you use is totally up to you, based on your preferences. It can be Paleo (using ghee), Keto, (using regular butter), or Vegan (using plant-based butter). Most of the time I make this using plant-based butter because I try to cut dairy where I can, and I really can't taste a difference at all using plant-based butter instead of regular butter or ghee.
Our Favorite Broccoli
12 oz. package chopped fresh broccoli florets
2 tablespoons butter, ghee, or plant-based butter
1 cup water
1/2 teaspoon sea salt (more or less if you prefer)
Melt butter in a skillet pan on medium heat. Once butter is melted, add water and stir. Add broccoli and stir again, cover. Continue to cook on medium heat, stirring occasionally for about 10-15 minutes (until broccoli is tender and slightly soft). Sprinkle salt on broccoli, stir again and serve.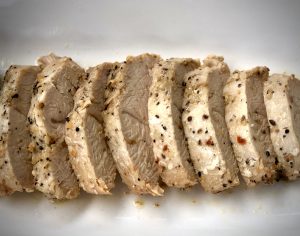 Slow Cooker Turkey Tenderloin