Gluten-Free/Dairy-Free/Vegan
My kids go through bananas like you wouldn't believe, so I grabbed some extra while at the store on the last trip. The good thing about having extra bananas laying around is how my brain starts to work when I notice them browning. Ohhh, what can I bake with those ugly brown bananas to create something blissful? Ladies and gentlemen, exhibit A.
While I was impatiently waiting for the bread to cool so I could slice into it, butter popped in my head out of nowhere. Then, I started daydreaming about smothering some freshly whipped honey butter on top of that warm banana nut bread and got a little too excited. Do I have what I need? Butter and honey, check.
Although I've made honey butter before, I wanted it to be more of a sweet hint of honey in the butter rather than it be overpowering. If you like for your honey butter to be sweeter than mine, feel free to add more honey! So, I whipped up a batch of the honey butter while slicing a few pieces from the loaf, slathered some on a piece, then sat down to take a bite.
My teeth sank in to that incredibly soft and moist loaf with the crunch of pecans and rich sweetness from the honey butter, and I may have had a moment of bliss as my eyes clothes as I chewed softly, savoring every single bite. I got up from my seat, shaking my head and how much I enjoyed that piece. How about another piece? Part of my job with recipe creation is quality assurance, so it only made sense to have another piece. You know, just to make sure.
While arranging the picture, the first shot had a layer of butter slathered on a slice of bread. I wasn't a huge fan of the first pic, and toyed with another shot that had bread without the layer smothered on top. What do I do with this piece that has already been smothered with the honey butter? Yep, there went a third piece of this stuff into my belly.
My husband came in the kitchen to try out the bread, and nodded his approval after taking a bite. "Do you want some honey butter on it?" I asked. At first, he declined, then decided to try just a tiny bit on one bite. One bite came and went, then he asked, "Can I have some more butter on it?" We have a winner.
Banana Nut Bread
1 1/2 cups gluten-free all-purpose flour
3/4 cup maple sugar*
2 teaspoons baking powder
1 teaspoon baking soda
1/2 teaspoon salt
3 ripe bananas
1 tablespoon ground flaxseed + 3 tablespoons water
1 teaspoon vanilla
1/4 cup coconut oil, melted
1/2 cup chopped pecans
Preheat oven to 350 degrees. In a blender, combine bananas, vanilla, oil, and flaxseed mixture, puree until smooth. Combine wet and dry ingredients (except chopped pecans) in a medium size mixing bowl or standing mixer and beat at medium speed for one minute, until well-combined. Stir in chopped pecans, spoon into greased loaf pan. Bake for 45-55 minutes, until a toothpick inserted in center comes out clean. Remove pan from oven and cool on cooling rack before removing loaf from pan and slicing.
*Can be substituted with light brown sugar. I prefer maple sugar because it's a healthier option than traditional sugar, has a wonderful flavor, and has a lower glycemic index with more nutritional value than cane sugar.
VARIATIONS: If you're not a huge fan of nuts, you can swap them out for chocolate chips, blueberries, or strawberries!
LUNCHBOX VERSION: For my kids' lunch boxes, I make plain banana bread, cut the slices a little thinner than I do with the loaf, and make a sandwich with peanut butter (sunflower seed butter for a nut-free version) or make a good ole fashioned PB&J!
FREEZER INSTRUCTIONS: When bread has cooled completely, cut into slices, wrap individually in plastic wrap and store in freezer for up to 4 months. Pull out to thaw when ready to enjoy.
For the Streusel Topping (optional)
2 tablespoons gluten-free all-purpose flour
2 tablespoons maple sugar
2 tablespoons finely chopped pecans
2 tablespoons grass-fed butter or plant butter, melted
Combine all ingredients in a small mixing bowl and toss together well. Sprinkle over batter in pan before baking.
For the Honey Butter
1 cup unsalted plant butter, softened
3 tablespoons raw honey*
In a medium size mixing bowl or standing mixer, beat butter at medium/high speed for about 2 minutes. Add honey and continue beating for 1 minute. Store in refrigerator.
*Can also use maple syrup.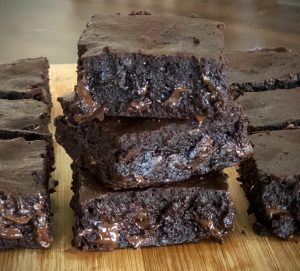 Dark Chocolate Fudge Brownies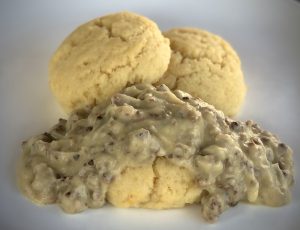 Cauliflower Sausage Gravy with Almond Flour Biscuits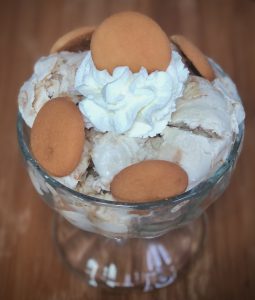 No-Churn Banana Pudding Ice Cream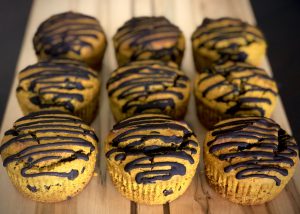 Chocolate Chip Pumpkin Spice Muffins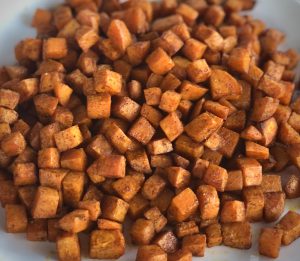 Roasted Chipotle & Cinnamon Sweet Potatoes