Gluten-Free/Dairy-Free/Paleo/Vegan/Whole30
Last month, I started an online school program at the Academy of Culinary Nutrition. Originally, we were told to prepare to spend 15-20 hours per week on school during this 14-week program. Well, those hours have almost doubled for me, since I typically dive head first into something I'm obsessed over without checking to see how deep the water is.
One of our assignments was to be partnered up with someone else in the program and design a 1-day menu plan for them. My partner is Eliza Aragon, who I met earlier this year and she actually introduced me to this program. She's apologized a few times, saying, "What did I get us into?" while working on so many of these assignments. It makes me chuckle, because I don't think she understands just how happy I am to have started this program. The amount of information I have learned is mind-blowing, and my plans keep growing every day with what's in store for the future.
Anyway, back to these potatoes. My hubby has always been in love with sweet potatoes, but my true love for them didn't develop until about 3 years ago when I first made the Roasted Sweet Potatoes and Brussel Sprouts. That did me in. Since then, I have been adding them to mashed cauliflower, or roasting them on a semi-regular basis. When Eliza put together a meal plan for me, I got excited to try a new roasted variation of these little cubes of heaven with some salt and spice to them. I altered her recipe just a little bit by adding more oil to coat the potatoes. My husband very rarely goes back for second helpings, so I wasn't surprised when he went back for more after raving about how good they were. I allegedly stood over the pan with my fork eating more of them after I had already cleaned my plate. Luckily, there is no evidence of this actually happening.
Roasted Chipotle & Cinnamon Sweet Potatoes
3 medium size sweet potatoes, peeled and cut into 1/2 inch cubes
3 tablespoons avocado oil or coconut oil
1/2 teaspoon ground chipotle pepper
1 teaspoon cinnamon
1/2 teaspoon sea salt
Preheat oven to 375 degrees. In a medium size mixing bowl, combine sweet potatoes, oil, chipotle pepper, and cinnamon. Toss together until potatoes are evenly coated. Rub a 9×13 inch baking dish with a little more oil to keep potatoes from sticking, pour potatoes into baking dish and spread into an even layer. Bake for 45-55 minutes, until potatoes are crispy and tender. Remove from oven, sprinkle salt and toss together in pan before serving.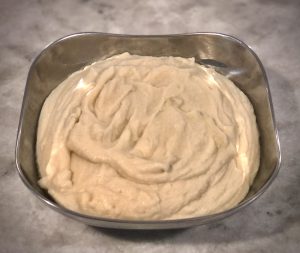 Sneaky Mashed Potatoes (with hidden cauliflower)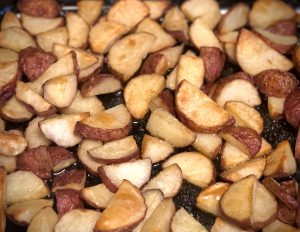 Oven Roasted Red Potatoes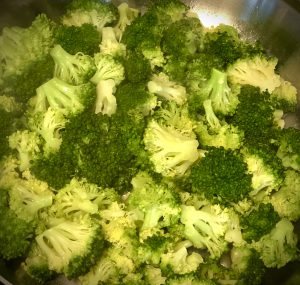 Our Favorite Broccoli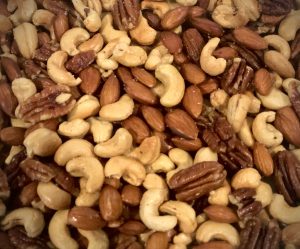 Roasted Mixed Nuts