Gluten-Free/Dairy-Free/Keto/Paleo
Check out my YouTube Channel!!
Have you ever watched your kids go from being semi-normal to bat-poo crazy after eating sugar? I have seen my sweet little girl go from rainbows and sunshine to the Exorcist in about five minutes flat after sugar rushes through her system.
But here's the problem…
It's nearly impossible to not let my kids eat ANYTHING with sugar in it. The compromise? Well, I can either load them up with the processed junk and send them to Grammy and Grampy's house until they crash, or make cookies myself and know exactly what's going in those cookies we stuff our faces with.
With these cookies, I don't feel bad at all letting them have a few at a time. Makes a great little lunchbox snack, too. If your family is nutty like mine, throw in a cup of chopped pecans for some added crunch.
Let's get real though, these are also great for breakfast. They go really well with coffee, and I have been known to pack a couple in a little plastic bag and take them to work. My new favorite breakfast of champions.
Chocolate Chip Cookies
1/2 cup Maple Syrup OR Keto Syrup (Lakanto or Choc Zero)
1/2 cup coconut oil
2 eggs
1/2 cup egg whites
2 teaspoons vanilla extract
6 cups almond flour
2 teaspoons baking soda
2 teaspoons kosher salt
9 oz. bag Lily's Dark Chocolate Chips
1 cup chopped pecans (optional)
Preheat oven to 375 degrees. In a standing mixer or mixing bowl, combine syrup and coconut oil. Beat at medium speed for about 1 minute. Add eggs, egg whites, and vanilla extract, continue mixing until well blended. Add almond flour, baking soda, and salt, continue beating again until all ingredients are incorporated. Stir in chocolate chips and chopped pecans. Using a *cookie scoop, distribute dough to silicone lined baking sheets. Shape cookies evenly into little **hockey pucks, place back on baking sheets and bake in oven for about 14 minutes.
*How big you want your cookies will determine what size scoop you use, and may alter the baking time by about 1 minute.
**Since these cookies don't spread, whatever shape they are when going into the oven will be the same shape after baking!
FREEZER TIP: After I bake and cool these cookies, I individually wrap them with plastic wrap and store in an airtight container or a freezer bag and store in the freezer until needed. My kids love these, and they make a great lunch box addition!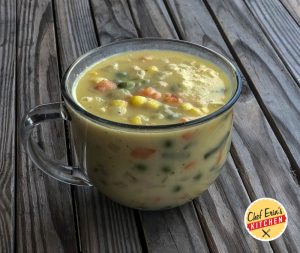 Hearty Vegetable Chowder