Gluten-Free/Dairy-Free/Low-Carb/Keto/Paleo
You'd think that having a Keto Thanksgiving would mean you're missing out on some good food, but that was quite the opposite this year. In fact, I thoroughly enjoyed every single item on my plate and even went back for second helpings of the Green Bean Casserole that I couldn't get enough of. 
Since I recently had to cut dairy back out of my diet due to chronic sinus infections and headaches, I've had to explore some other options for traditional recipes and improvise quite a bit…which has lit the culinary fire under my rump to do some more kitchen experiments. Totally okay with that. I adjusted my original Pumpkin Cake recipe to make it Dairy-Free AND Keto, and my whole family loved it. They're not the type of people to go out of their way to tell me something tastes good if it's really not, so you can imagine my delight when they told me they enjoyed it even after I gave them a head's up that it was a healthy cake.
My mom and I shared a large piece, with me saying, "There's no way we'll be able to eat this whole thing," as we sat down next to each other at the table.
I was wrong. We ate every single crumb, and didn't feel bad at all about it.
Pumpkin Cake
For the Cake:
2 cups almond flour
1/4 cup coconut flour
1 2/3 cup granulated erythritol/monkfruit sweetener
1 tablespoon baking powder
1 teaspoon ground cinnamon
1 teaspoon pumpkin spice
1 teaspoon baking soda
1 teaspoon salt
15 oz. can pumpkin
1 teaspoon vanilla extract
1 cup coconut oil, melted
4 eggs
Preheat oven to 350 degrees. Combine all ingredients in a medium size mixing bowl or standing mixer and beat at medium speed for about 1-2 minutes, until well combined. Grease 3 8-inch cake pans with cooking spray, line with parchment circles and spray again (this keeps the cake from sticking to the pans). Distribute batter evenly between each pan, place pans in oven and bake for 25-30 minutes, or until toothpick inserted in center comes out clean and sides of cake have just started to pull away from the pan. Cool in pans for 10 minutes, remove cakes from pans and cool completely on cooling racks. Make icing and assemble cake, store in refrigerator before serving.
For the Icing:
1 lb. plant-based butter, softened (I used the Country Crock plant-based avocado oil butter)
3 cups Confectioners erythritol/monkfruit sweetener
1 tablespoon vanilla extract
Place softened butter in standing mixer or medium size mixing bowl, beat at medium speed for 3-4 minutes. Add sweetener and vanilla, continue beating for another 3-4 minutes. Assemble with cooled cake.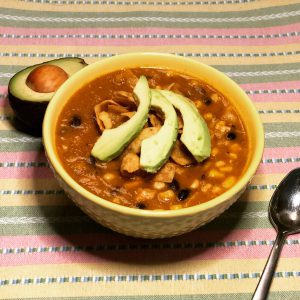 Chicken Tortilla Soup