Gluten-Free/Dairy-Free/Vegan
As a kid, one of the snacks that I loved to stuff in my face was an Oatmeal Cream Pie. In all honesty, any of those packaged sweet treats were sure enough to send me into an excited frenzy, which is probably why my mom didn't keep our pantry stocked with them on a regular basis. Smart woman.
Fast forward to adulthood, and she now keeps these babies stocked in her pantry for the grandkids. Coincidence? I think not. In fact, I think they're also kept in the pantry because my dad and brothers usually grab one for themselves.
For me, however, things have changed since all of my gut issues invaded my life.
So, I decided to come up with a healthier, homemade option. At least with this recipe, I'm avoiding gluten and dairy, and using whole grain oats to throw a little bit of fiber in there for my gut. Fortunately, my kids love these just as much as the storebought version and I'm not overly worried about them eating too much processed nonsense and not getting enough fiber in their bellies. It's a win-win situation all the way around.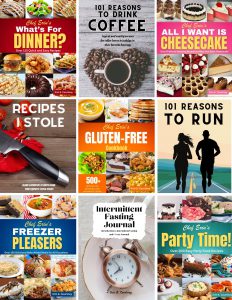 Homemade Oatmeal Cream Pies
For the Cookies
1 cup plant butter, softened
1 cup light brown sugar
1/4 granulated sugar
1/3 cup unsweetened applesauce
1 teaspoon vanilla
1 1/2 cups gluten-free flour
1 teaspoon baking powder
1 teaspoon cinnamon
1/2 teaspoon salt
3 cups rolled oats
Preheat oven to 350 degrees. In a medium size mixing bowl or standing mixer, combine butter, brown sugar, and granulated sugar. Beat at medium speed for about 2 minutes, until light and fluffy. Add applesauce and vanilla, mix until well-combined. Add flour, baking powder, cinnamon, and salt, continue beating until combined. Add rolled oats and beat again just until incorporated. Using a cookie scoop, distribute dough to a silicone lined baking sheet. Place pan in oven and bake for 10-13 minutes* until lightly browned. Remove pan from oven, let cookies sit on pan for 5 minutes before transferring to a cooling rack to cool completely.
* Baking time depends on how big or small your cookies are. Less baking time for smaller cookies, more baking time for larger cookies.
For the Icing
1 cup plant butter, softened
1 teaspoon vanilla extract
2 tablespoons water
4 cups confectioners sugar
Beat butter in a medium size mixing bowl or standing mixer at high speed for about 3 minutes, until fluffy. Add half of confectioners sugar, vanilla, and water. Beat for 1 minute, then add remaining sugar and continue beating for another 2 minutes.
Assembling
When cookies have cooled completely, flip half of them over. Spoon icing into a pastry bag and snip off the end, then squeeze icing in a circular motion on top of cookies that have been flipped over. Place remaining cookies on top and gently press down for the icing to go to the edges of the cookies.
Storage
Wrap each pie individually with plastic wrap. Store at room temperature for up to 3 days, or in the freezer for up to 6 months. Pull out to thaw at room temperature when ready to eat.
Baked Apple Cider Donuts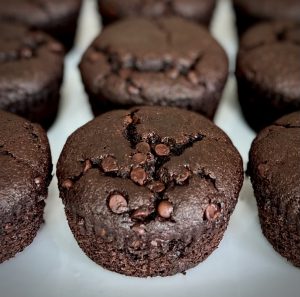 Double Chocolate Zucchini Muffins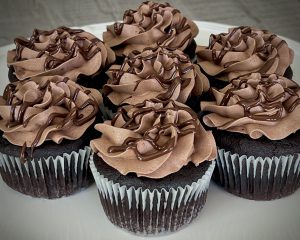 Death by Chocolate Cupcakes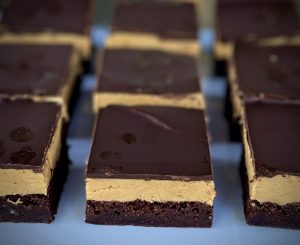 Buckeye Brownies