Gluten-Free/Dairy-Free/Vegan
The first time I made Buckeyes, I was hooked. My family has always been a bunch of peanut-butter-loving-fanatics, so these little homemade goodies quickly skyrocketed to the top of the list of favorite sweet treats.
However; I'm also a sucker for brownies. I love making a batch of brownies and throwing a bag of peanut butter chips in them, but the dairy aspect throws that off since I can't find dairy-free peanut butter chips. Although I'll still have a little taste of something with the peanut butter chips in them, I save them more for special occasions a few times a year and improvise where I can. Well, here we are with improvising and I am completely addicted. What peanut butter chips?
This is the type of treat where I catch myself turning into a werewolf after taking a bite. "Just one bite" does NOT apply when it comes to these brownies. In fact, the first time I attempted to say that I ended up laughing at myself because it was flat out impossible. Just one bite? Right.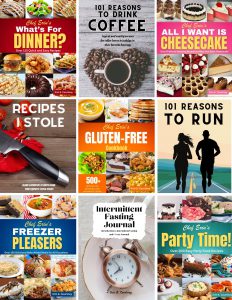 Buckeye Brownies 
For the Brownie Layer
3 cups granulated sugar
2 cups gluten-free all purpose flour
1 1/2 cups unsweetened cocoa
1/2 tablespoon baking powder
1/2 teaspoon salt
1/2 cup dairy-free butter, melted
1/2 cup vegetable oil
2/3 cup non-dairy milk (my favorite is oat milk)
2 tablespoons vanilla extract
Preheat oven to 350 degrees. In a large mixing bowl, combine sugar, flour, cocoa, baking powder, salt, and whisk together well. Add liquid ingredients and stir until batter is moist. Line a 9×13 inch baking pan with parchment paper and press down into pan with paper hanging over sides. Spray with cooking spray, press batter into an even layer in pan. Place pan in oven and bake for 40-45 minutes, until a toothpick inserted comes out with a very small amount of fudge on the tip. Cool brownies in pan on cooling rack.
For the Peanut Butter Layer
1/2 cup dairy-free butter, softened
1 2/3 cup creamy peanut butter
2 cups confectioners sugar
In a medium size mixing bowl or standing mixer, combine butter and peanut butter. Beat at medium speed for about 1 minute, add confectioners sugar and beat for another minute until well blended. Spread into an even layer on top of cooled brownies.
For the Chocolate Ganache
1 tablespoon coconut oil
1 cup non-dairy chocolate chips (my favorite brand is Enjoy Life)
Combine chocolate chips and coconut oil in a microwave safe dish and heat in 30 second intervals until chocolate is completely melted and smooth. Spread on top of peanut butter in an even layer. Place pan in refrigerator to set before cutting into squares. Store in airtight container for up to 3 days, or wrap individually and store in freezer for up to 6 months. Pull out to thaw when ready to eat!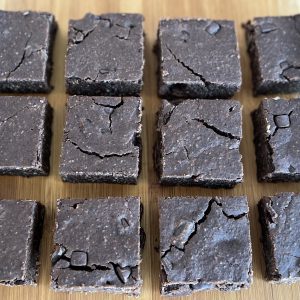 Black Bean Brownies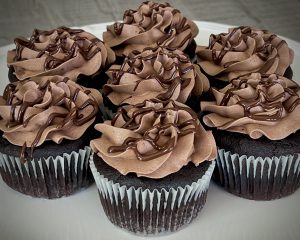 Death by Chocolate Cupcakes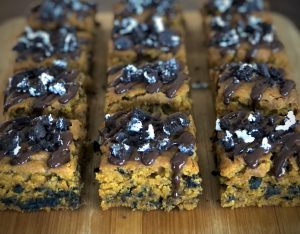 Pumpkin Oreo Brownies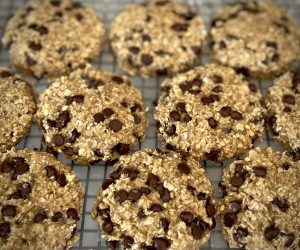 Banana Oatmeal Cookies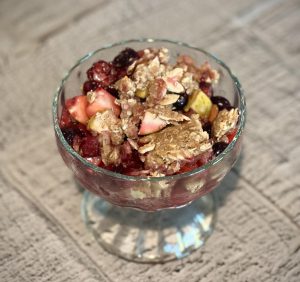 Fruit Crumble