Gluten-Free/Dairy-Free/Vegan
A local cake-donut shop in Chapin fired up my cravings for Apple Cider Donuts after posting about serving them at their shop. Even if you don't live anywhere around here, do yourself a favor and go to Chickenbutt Donuts' Facebook page and follow them…I cannot stop looking and laughing hysterically at their posts. 
The owner has an incredibly warped sense of humor and doesn't hold back, which seriously makes me wonder if we're long lost relatives. Is it possible for me to have another brother I don't know about? Or cousin? I need to check with my parents on this one. My dad is from West Virginia, and his mom had 14 siblings (yes, I said 14 siblings), so it could have trickled down from there. I can feel my left eye twitching at the thought of having 15 children. I need to sit down. Oh wait, I am sitting down…more like curl up in the fetal position and weep.
He makes fun of Yankees a lot, and that seems to be the majority of his customers. Maybe it's because he openly makes fun of them? Either way, they come running and I love the Yankee culture since I was surrounded by them growing up in Myrtle Beach. They always seemed to take me in with my big mouth and sarcastic, warped sense of humor. My sister-in-law is from New Jersey and I have a lot of fun trash-talking her. She's the best.
Since I'm one of these weirdos who likes to improvise with healthier options whenever I possibly can, I decided to make my own version of these donuts at the house. The first batch was a different recipe and it was okay, but this batch hit the list of my favorites. Not only did my kids love them, but my skeptical hubby also approved of them as well. Ladies and gentlemen, we have a winner. Even if they're not quite as yummy as Chickenbutt Donuts' batch, I can make these babies at home and they're a good source of fiber. Excuse me while I make a cup of coffee and have another donut.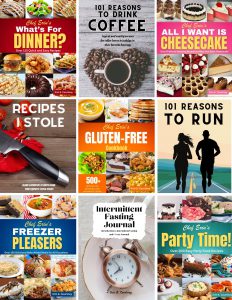 Baked Apple Cider Donuts
For the Donuts
3 cups oat flour
1/2 cup granulated sugar
1/2 cup light brown sugar
1 tablespoon baking powder
2 teaspoons cinnamon
1 teaspoon salt
1/2 teaspoon baking soda
1/2 cup applesauce
1/4 cup ground flaxseed meal + 3/4 cup water (combine and set aside for 5 minutes)
1/2 cup coconut oil
1/2 cup apple cider
Preheat oven to 350 degrees. Whisk dry ingredients together, add wet ingredients and stir just until combined. Spoon into pastry bag, cut off tip and pipe into greased donut pans almost to rim. Place pans in oven and bake for 14-16 minutes, until lightly browned on top. Dump onto cooling rack lined with parchment paper and cool slightly.
For the Topping
1 cup apple cider
1 cup granulated sugar
1/4 cup cinnamon
Combine sugar and cinnamon in a bowl and whisk together. Dip top of donut into apple cider, then press into cinnamon/sugar mixture. Stuff donuts in your mouth for a happy belly.
*If you have any left over cinnamon/sugar mixture, set aside in a covered bowl and use for other baked goodies!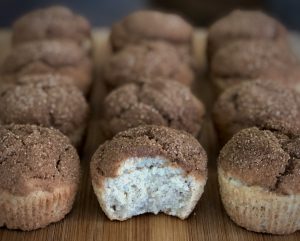 Apple Cider Donut Muffins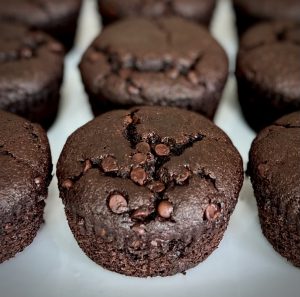 Double Chocolate Zucchini Muffins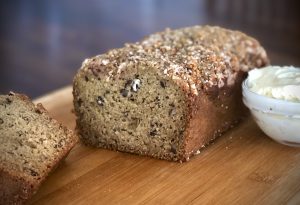 Banana Nut Bread with Whipped Honey Butter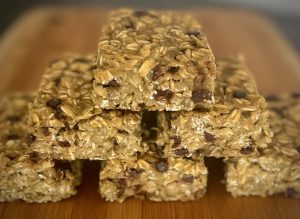 Banana Oatmeal Breakfast Bars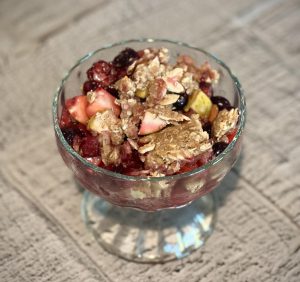 Fruit Crumble