Gluten-Free/Dairy-Free/Vegan
One of my favorite things to do in life is to trick people into eating more fruits and vegetables. It's become a slightly obsessive talent, and has gotten to the point where my family asks, "What does this have in it?" I have learned that adding fruits and vegetables into baked goods is not only a fantastic way to add nutrients to your diet, but it's also a great way to produce baked goods that retain their moisture and don't dry out easily. With these muffins, you're getting all kinds of nutrients with the zucchini, oat flour, and ground flaxseed without even realizing you're eating something healthy. It's magical.
Our neighbor's daughter is close friends with our daughter, so she spends a lot of time at our house. When I was baking away in the basement kitchen, I knew the kids would be fantastic taste-testers. After taking a bite and smiling to myself, I called out, "I NEED TASTE-TESTERS!!" My daughter replied, "What did you make?" and I responded, "Double Chocolate Muffins!"
Cue the stampede of buffalo with all three kids running down the stairs at the mere mention of chocolate. I broke the muffin into large chunks and handed each one of them a piece to try. They stood there eating it, all nodding in approval. Neighbor kid is the pickiest eater out of the bunch, so I asked her if she liked it. If she doesn't like something, she'll take one bite and hand off the rest to one of the other kids…but this time I saw her licking chocolate crumbs off her hands and said, "I like it."
I plated up some muffins to get a picture, and they came back to the living room to invade the couches. I wanted to make sure she was completely done with her sample before asking her a question.
"Hey, do you like zucchini?"
"Um, NO," she replied.
"Are you sure about that?" I said while a slow smile started to spread across my face.
"Yeah I'm sure…why?"
I started cackling, "BECAUSE YOU JUST ATE SOME!!!"
I burst into laughter and her face turned to shock, but she was smiling at my reaction.
"Are you serious??" she cried.
"YES!!"
She stared at me, baffled. "But HOW?!"
"Well, I grated the zucchini before pureeing it in a blender and adding it to the rest of the ingredients!"
She looked appalled, "WHO PUTS ZUCCHINI IN MUFFINS?!?!"
"I can promise you I'm not the first person to do this, but you ate zucchini!!"
My daughter looks at her friend and says, "You know my mom is going to tell your mom about this, right?"
This kid knows me, because I was still laughing when I called my neighbor to tell her about how I tricked her daughter into eating zucchini.
This is why I do what I do.
Double Chocolate Zucchini Muffins
2 1/4 cups oat flour
3/4 cup unsweetened dark cocoa
1 2/3 cups granulated sugar
4 teaspoons baking powder
2 teaspoons baking soda
1 teaspoon salt
3 cups packed grated zucchini
1/2 cup ground flaxseed
1 1/2 cups water
1 tablespoon vanilla
1/2 cup vegetable or coconut oil
3/4 cup mini dairy-free chocolate chips (my favorite brand is Enjoy Life)
Preheat oven to 450 degrees. In a medium size mixing bowl or standing mixer, whisk together flour, cocoa, sugar, baking powder, baking soda, and salt. In a blender, combine zucchini, ground flaxseed, water, vanilla, and oil; puree until smooth. Pour liquid mixture into dry ingredients and beat at medium speed for about 1 minute, until combined. Add chocolate chips and stir together until well-combined. Line jumbo muffin pans with liners and give a quick spray with cooking spray. Using a cookie scoop, fill each cavity about 2/3 full. Place pans in oven and bake for 10 minutes. Reduce oven temperature to 350 and continue baking for another 16 minutes. Remove pans from oven, let muffins sit in pans for another 5 minutes before transferring to cooling racks to cool completely.
Freezer Instructions: when muffins have cooled completely, wrap individually in plastic wrap and store in freezer for up to 6 months. Pull out to thaw overnight on counter, or can be defrosted in the microwave.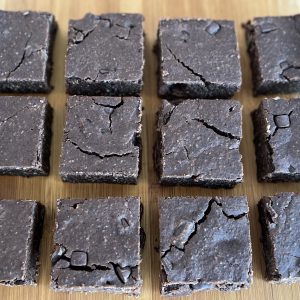 Fudgy Black Bean Brownies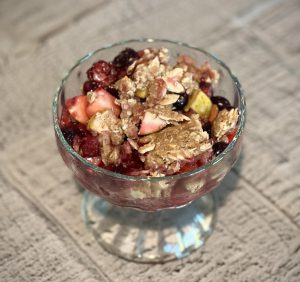 Fruit Crumble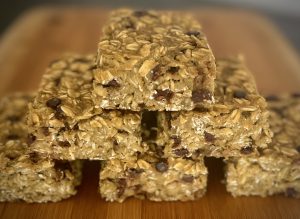 Banana Oatmeal Breakfast Bars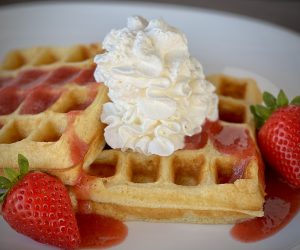 Best Ever Waffles with Strawberry Maple Syrup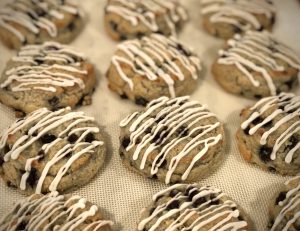 Lemon Blueberry Scones