Gluten-Free/Dairy-Free/Vegan
After writing an entire chapter with over 60 recipes for No-Churn Homemade Ice Cream in my Freezer Pleasers Cookbook, I was hooked on the simplicity of homemade ice cream…and how freaking delicious it is.
Unfortunately, it's not something I can eat on a regular basis since I'm sensitive to dairy. So, you can imagine my excitement when I came across cans of sweetened condensed coconut milk at the store.
OMG, does this mean I can make super easy homemade ice cream with this??
Yes ma'am.
What I didn't expect with this recipe is how the consistency of it turned out to be similar to soft-serve ice cream. EVEN BETTER! This way, I don't have to wait for the ice cream to soften before plunging a spoon into the container and shoving a big mouthful in my pie hole.
This base recipe is only the beginning, but since my kids and I are HUGE fans of Oreos and I keep Gluten-Free Oreos in my pantry for emergencies, this batch was packed full of those wonderful cookie chunks.
I can't wait to make a LOT of variations using this recipe…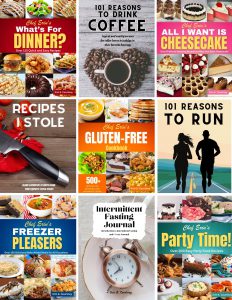 No-Churn Dairy-Free Ice Cream
14 oz. can sweetened condensed coconut milk
1 tablespoon vanilla extract
18 oz. dairy-free frozen whipped topping, thawed
Whisk together sweetened condensed milk and vanilla in a large mixing bowl, set aside. Spoon half of whipped cream into condensed milk and vanilla mixture, stir together with a spatula until well-combined. Add remaining whipped cream and repeat process. Pour into a bowl, loaf pan, or quart container and add whatever extras you prefer (cookies, chocolate chips, fruit, etc.). Cover and place in freezer for a minimum of 4 hours to set.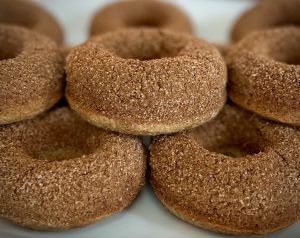 Baked Apple Cider Donuts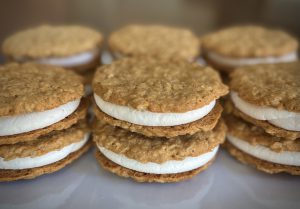 Oatmeal Cream Pies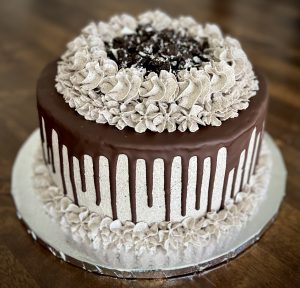 Chocolate Cookies 'n Cream Cake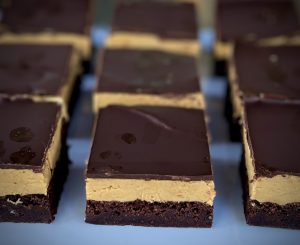 Buckeye Brownies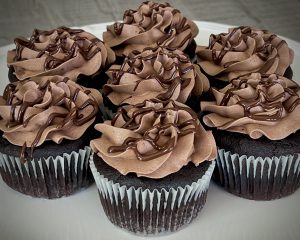 Death by Chocolate Cupcakes