Gluten-Free/Dairy-Free
Check out my YouTube channel!!
Is it Fall yet?
Actually, I believe the question is more along the lines of…
IS IT PUMPKIN SEASON YET?!?!
The answer is YES. Let's kick this season off with some thick, moist, cake-like Pumpkin Oatmeal Cookies that are packed with cinnamon chips and drizzled with vanilla icing. My knees just buckled.
This recipe was a gamble. An experiment. I looked at some other recipes online and combined them with some things I did and didn't want to do with these cookies, so it's really a mesh of different tricks, ideas, and other recipes that were all thrown together in one. I took them to Krafty Draft Brew Pub with me and started passing them out, warning everyone that it was in fact an experiment and I hadn't tried them yet.
All two dozen cookies were gone in an hour.
The next day, I made the remaining 2 1/2 dozen cookies for my son's school party and took them, along with 3 dozen Cookies 'n Cream Cupcakes. Before we left, I went back over to the dessert table to collect any leftovers. There were 3 cupcakes left out of everything, so maybe it's safe to assume they were enjoyed instead of thrown in the trash can? One of the many things worth pondering, but I will definitely be making these guys again…and again…
Pumpkin Oatmeal Cookies
1 1/2 cups unsalted butter, softened (use plant butter for dairy-free)
2 cups light brown sugar
1 cup granulated sugar
2 tablespoons molasses
15 oz. can pure pumpkin
1 egg
1 tablespoon vanilla extract
4 cups Gluten-Free All-Purpose flour
2 teaspoons cinnamon
2 teaspoons baking soda
1 teaspoon baking powder
1 teaspoon salt
6 cups old fashioned gluten-free oats
1 bag cinnamon chips
1 cup chopped pecans (optional)
Preheat oven to 375 degrees. Beat butter at medium speed  with electric mixer until it reaches a mayonnaise consistency. Add light brown sugar, granulated sugar, and molasses, continue beating for another minute. Add egg, vanilla, and pumpkin, continue mixing for another minute. Add flour, cinnamon, baking soda, baking powder, and salt, continue mixing again. Add oats, cinnamon chips, and pecans (if desired), stir together well. Using a cookie scoop, distribute dough onto lined cookie sheets and bake for 11-12 minutes. Remove pans from oven, let cookies sit on pan for 1-2 minutes before transferring to cooling racks to cool completely before adding icing on top. Store cookies in airtight container at room temperature for up to 5 days.
For the Icing:
1 cup confectioners sugar
1 teaspoon vanilla extract
2-3 tablespoons milk
Combine all three ingredients in a small mixing bowl and stir together until smooth. Drizzle over cooled cookies.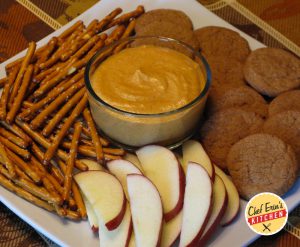 Pumpkin Pie Dip