Check out my YouTube Channel!!
One of my favorite sweet appetizers for parties is Chocolate Covered Strawberries. The way people's eyes light up when they see this fresh, juicy fruit dipped in chocolate draws them to the serving plate to pack a handful of them on their plate. When you watch them take a bite, it appears as if they're moving in slow motion as their eyes start to close and they chew carefully and savor every single bite. Technically, I just described myself eating these…
I've made several different recipes to incorporate Chocolate Covered Strawberries, specifically cakes and cupcakes. Why not cheesecake? Exactly my point. Thank you.
While I was working on my first cheesecake cookbook, my neighbor graciously accepted to let me use her kitchen to take a picture for the cover. Once we had everything done, put together, and ready to go, one of my editors wanted to know what cheesecake was on the front cover so I could reference the page. "Oh, uh, that recipe is going in the NEXT book." Oops.
After experimenting with so many new cheesecake flavors, one of my favorite things to do is puree fresh fruit INTO the cheesecake to give it that fruity flavor without all the chunks. Personally, I didn't feel like this cheesecake was red enough to be considered strawberry, so I added a teaspoon of red food coloring for effect. This is completely optional, if you would prefer not to use food coloring. Another option would be to add 1 cup of fresh strawberries that have been cut into bite size pieces, if you want it to be the ultimate strawberry cheesecake.
For the Crust:
1 1/4 cups chocolate graham cracker crumbs
2 tablespoons granulated sugar
5 tablespoons unsalted butter, melted
For the Filling:
3 (8 oz.) packages cream cheese, softened
1/4 cup cornstarch
1 2/3 cup granulated sugar
1 cup frozen sliced strawberries, thawed
3 eggs
1 tablespoon vanilla extract
1/2 cup heavy cream
1 teaspoon red food coloring (optional)
For the Topping:
1/2 cup semisweet chocolate chips
1/4 cup heavy cream
strawberries
dark chocolate melting wafers
Preheat oven to 350 degrees. Double-wrap the outside of a 9 inch springform pan with heavy duty aluminum foil, place inside a 12 inch cake pan. Place chocolate graham cracker crumbs and 2 tablespoons sugar in a small mixing bowl, toss together. Add the melted butter and mix with your hands until thoroughly combined. Rub butter all along the bottom of the springform pan, then press chocolate graham cracker mixture evenly along the bottom. Place pans in the oven to bake for 7 minutes, remove pans from oven and set aside.
In a standing mixer, add 8 oz. cream cheese, cornstarch, and 2/3 cups sugar. Beat at medium speed with the paddle attachment until mixture is smooth. Add another 8 oz. cream cheese, along with 1/3 cup sugar and continue to beat until smooth. Add remaining cream cheese and granulated sugar, one at a time, until smooth. Slow mixer to stirring speed, add vanilla, and one egg at a time, scraping down the sides. In a blender, combine 1 cup thawed sliced strawberries and 1/2 cup heavy cream, puree until smooth. Turn on mixer to stirring speed and slowly add strawberry puree just until mixed in (do not overmix). Spoon batter into springform pan on top of graham cracker crust and spread into an even layer.
Pour warm water into the larger cake pan, creating a water bath (this prevents cracks). The water should come up at least 1 inch around the springform pan. Carefully place pans in oven and bake for about 1 hour 15 minutes, until lightly browned on top. Remove pans from oven, pull the springform pan out of the larger pan and place on a cooling rack for about 4 hours to cool completely. Remove aluminum foil from around pan.
Cover springform pan with plastic wrap and place in freezer to set for at least 4 hours, but preferably overnight. Remove plastic wrap from springform pan. Release and remove sides of springform. Place a piece of parchment or wax paper on top of cheesecake, turn upside down on a flat surface. Carefully remove bottom of pan, turn back over onto a serving plate.
In 30 second intervals, heat dark chocolate melting wafers in a microwave safe container, stirring between each interval until chocolate is melted and smooth. Take one whole strawberry by the stem, dip 3/4 of the strawberry into the dark chocolate. Place chocolate covered strawberry on parchment or wax paper to set.
Heat heavy cream in microwave for 45-60 seconds in microwave safe container, or until it starts to boil. Pour over chocolate chips in a small mixing bowl and whisk together until melted. Place in freezer to set for about 30 minutes. Remove from freezer, cut into slices with a sharp, straight edged knife, wiping knife between each cut. Drizzle each slice with the chocolate ganache. When ready to serve, place 1 chocolate covered strawberry on each slice of cheesecake. Store cheesecake in refrigerator until ready to serve for up to 7 days, or in the freezer for 1 month.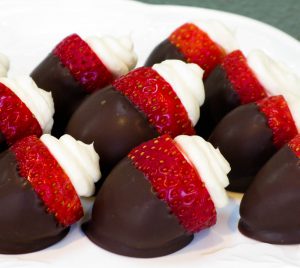 Chocolate Covered Cheesecake Stuffed Strawberries