My husband and I went to Hawaii for our honeymoon, and we both fell in love with it. Well, he became practically obsessed with it and has mentioned us moving there many times over the years since our visit. "Have you seen how WHITE we are?? We'd die of skin cancer in like three months!!" has been my response. I remember lathering sunblock with SPF 75 all over me and STILL getting burnt after 1 hour. The scenery was incredible there, and we took way more pictures of it rather than of us. I think there may have only been 3 or 4 pictures of the two of us together, and this was before the smartphone age. Selfies were more challenging with a regular camera. Yes, we're that old.
One of the many things we enjoyed about our trip was the food. It was incredible. Between the restaurants, dinner cruise, and food trucks, we didn't go hungry. Since we came home from our trip (almost 13 years ago), my fascination remains with the culture, scenery, and food. Hawaiian food is a blend of Asian cuisine with a lot of citrus, and don't forget the pork.
My 40th birthday is coming up this year, and a luau theme is at the top of my list.
Recommended Books
Hawaiian Crock Pot Chicken and Sausage
1 cup pineapple juice
3/4 cup light brown sugar
1/4 cup soy sauce
1/4 cup teriyaki sauce
1 tablespoon worcestershire
4 lbs. chicken thighs
1 lb. smoked sausage, cut into 1/4 inch rounds
Lay chicken thighs in a slow cooker. Whisk together first five ingredients in a small mixing bowl and pour over chicken. Cook on low for 3 hours. Shred chicken, add sausage, and continue cooking on low for 1 more hour. Serve with buttered rice and veggies.
Buttered Rice
1 cup white rice, uncooked
2 cups chicken broth
1/4 cup unsalted butter
1/2 teaspoon salt
1/4 teaspoon black pepper
Melt butter in a pan on medium heat. Stir in rice and cook for 1 minute, then pour in chicken broth and stir again. Cover and cook for 12-15 minutes, stirring occasionally. Season with salt and pepper before serving with chicken.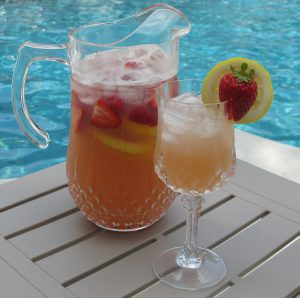 Strawberry Moscato Punch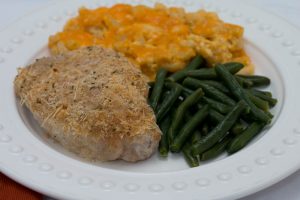 Parmesan Crusted Pork Chops